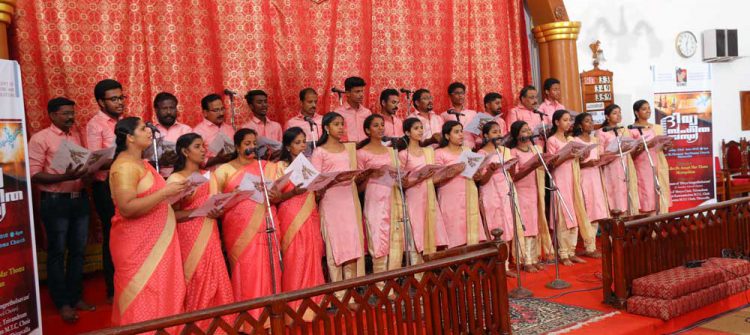 Divya Sangeetha Sandhya (ദിവ്യ സംഗീത സന്ധ്യ) – a Liturgical Musical Concert organised by the Musical Wing of the Mar Thoma Church- Department of Sacred Music and Communication (DSMC) was held at St.Thomas Mar Thoma Church Thiruvalla.
Most Rev. Dr. Joseph Mar Thoma Metropolitan inaugurated the meeting. Tirumeni reminded the significance of liturgical songs in our worship services. Tirumeni exhorted the need for learning and practicing the liturgical songs which are inevitable part of our tradition and liturgy through which our faith is communicated.
 Four winners from Sunday School Kendra level Competition and the specially invited choirs from Kunnamkulam Arthat Mar Thoma Church, Qolo d' Moryo -Trivandrum and St. Thomas Mar Thoma Church, Thiruvalla enriched the evening with lovely singing. Rev. Ashish Thomas George is serving as the Director of DSMC.