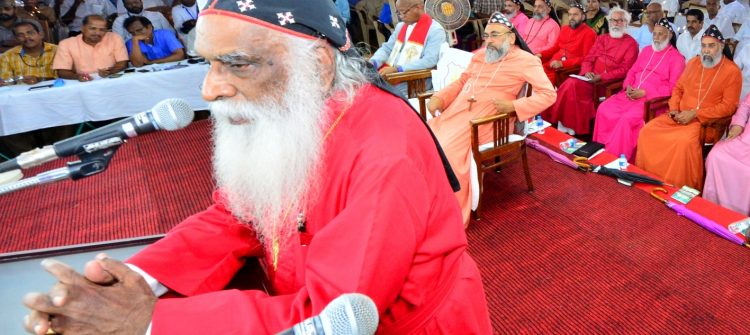 122nd Maramon Convention begins on 12th February 2017 with the exhortation by Most Rev.Dr. Joseph Mar Thoma Metropolitan to see the human face of God in lives of the fellow people. During the inaugural address, Metropolitan reminded the revitalising presence of Maramon Convention in reforming Church and society. The meeting was presided by Rt.Rev.Dr.Euyakim Mar Coorilos Episcopa. Tirumeni emphazized the importance of the study of the Word of God in Maramon Convention for the renewal of Family and Community. Rt.Rev.Dr. Mukondeleli Ramoulondi Edward, in the opening devotion of this years' convention urged the faithful that the Glory of God should be reflected in the local spaces, where the People of God are called to witness.
Rev. George Varghese, General Secretary of MTEA offered the word of welcome to the dignitaries. Most Rev.Dr. Philipose Mar Chrysostom Mar Thoma Valiya Metropolitan, other Bishops of the Church, Bishops from the sister Churches, Ministers and Government officials and dignitaries from various other realms of the society, attended the inaugural function.
Along with the Bishops of the Church,  Rt. Rev. Dr. Mukondeleli Ramoulondi Edward, Rev. Dr.Cleophus J. Larue and  Lord Griffiths  delivered the messages during different sessions held from 12th to 19th February 2017.
Specially trained choir of 101 members led in singing songs. Sixteen new songs were introduced in this year. The choir trained by the Department of Sacred Music and Communication(DSMC), the Music Department of Mar Thoma Church not only gave effective leadership to the singing sessions but also train the large congregation to sing new songs.  Stalls and offices of Dioceses, various organizations, institutions of the Church functioned in the sand bed. During this week, Bible studies, special meetings for family, children, youth, women, evangelists, held in the sand bed. Special sessions emphasizing the Ecumenism, Mission, Against Social Evils were held during this time. Saturday Morning Session was specially set apart as the Birth Centenary meeting to felicitate Most Rev. Dr. Philipose Mar Chrysostom Mar Thoma Valiya Metropoloitan.
On 19th February, Holy communion was celebrated in Kozhencherry St. Thomas, Maramon and Chirayirambu Immanuel Mar Thoma Churches. Ordinary service was held in Maramon Pandal. During the concluding meeting in the afternoon Most Rev. Dr. Joseph Mar Thoma Metropolitan reminded the human responsibility based on the Prophet Micah to act justly, to love mercy and to walk humbly with our God.
The 122nd Maramon Convention came to an end by the Benediction by His Grace  Most Rev. Dr. Joseph Mar Thoma Metropolitan and the singing  the traditional song Stutippin Stutippuin Yesu devanae… (സ്തുതിപ്പിന്‍ സ്തുതിപ്പിന്‍ യേശുദേവനെ…) by the people.
Click for Maramon Day 2 Photos (13/2/2017)
Click for Maramon Day 3 Photos (14/2/2017)
Click for Maramon Day 4 Photos (15/2/2017)
Click for Maramon Day 5 Photos (16/2/2017)
Click for Maramon Day 6 Photos (17/2/2017)
Click for Maramon Day 7 Photos (18/2/2017)