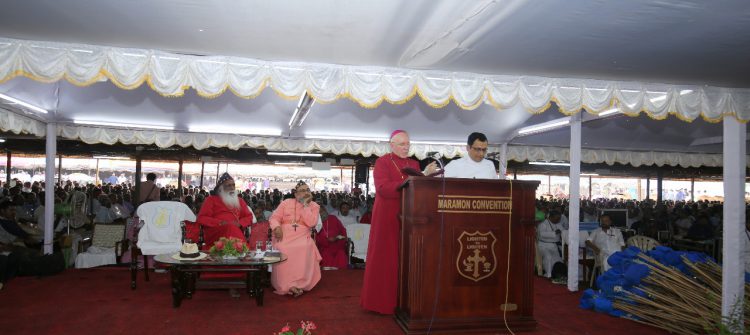 Maramon Convention, the largest christian gathering in the continent of Asia, started as a result of the reformation in the Malankara Church. The convention is held at the river bank of Pamba. The aim of the convention is to empower people for the  serious study of the Bible and its reflect its message so that the faithful became the ambassadors of Lord Jesus.
The 123rd Session of the Maramon Convention began on 11th February 2018 with the prayer by Rev. Sabha Secretary Rev. K.G.Joseph. Rev. George Abraham Kottanad, General Secretary of Mar Thoma Evangelistic Association welcomed all the guests this convention. In the presidential address Rt.Rev.Dr. Euyakim Mar Coorilos Episcopa reminded that the role of the convention is the transformation of the mind towards Christ and complete dedication of our minds. His Grace the Most Rev. Dr. Joseph Mar Thoma Metropolitan inaugurated the convention. In Metropolitan's inaugural messsage, Tirumeni recalled the past glory of the river Pamba its heritage and the human invasion to the nature.  Tirumeni exhorted the role as Christians not to be as the rulers but as the caretakers of the nature.
Bishop Peter David Eaton, Bishop of the Episcopal Diocese of Southeast Florida gave the opening message. Bishop related the event of the transfiguration with the Christ event.  Bishop reminded the responsibility to apply our reflections from the worship to praxis.
The  Department of Sacred Music & Communication, the Music department holds the responsibility for leading the singing session.
This year Bishop Peter David Eaton, Rev. Dr. Francis Sunderaraj, Rev. Dr. Rajkumar, Rev. Dr. Vinod Victor , the guest speakers, led various sessions. Besides Cardinal Mor Cleemis, Rt. Rev. Dr. Oommen George,
The convention has Bible studies for both men and women, Special session for Children, the meeting of the Youth (Yuvavedi) , Meeting for the Families (Kudumbavedi) and so on.
This year the conventionwitnessed two remarkable momemnts , first time in its history, the convention listens to the voice of a transgender, Selin Thomas, who shares her experiences and the need for a ministry among the transgenders. Also the Sevikasangom, the organisation for women inaugurated its centenary celebrations in this convention.
There was a dedication service for the children who are willing to dedicate themselves for the full-time ministry of God.
The convention came to an end on 18th February 2018.