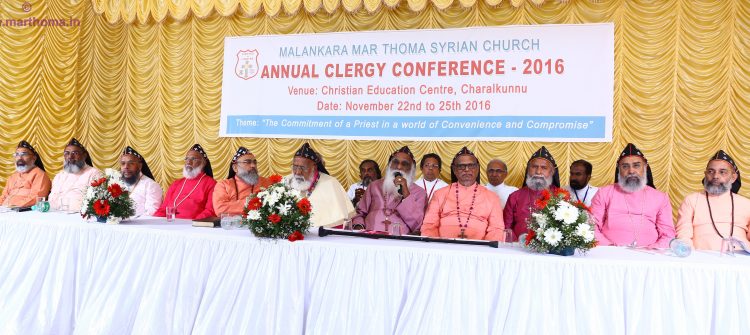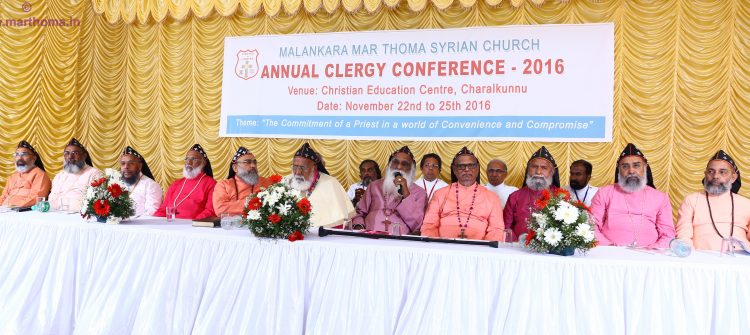 The Annual Conference of the Clergy of Malankara Mar Thoma Syrian Church was held at Christian Education Centre, Charlkunnu from 22-25 November 2016 based on the Theme 'The Commitment of the Priest in a world of Convenience and Compromise'.
The Clergy Conference was inaugurated by His Grace The Most Rev. Dr. Joseph Mar Thoma Metropolitan and the Most Rev. Dr. Philipose Mar Chrysostom Mar Thoma Valiya Metropolitan delivered the words of Blessings. The meeting was Presided by Rt. Rev. Gregorios Mar Stephanos Episcopa, the President of Clergy Conference.
Main Talk  based on the Theme  was delivered by Most Rev. Dr. Kuriakose Mor Theophilus Metropolitan ( Malankara Jacobite Syrian Church). Various sessions  based on contemporary issues  were led by the Bishops of the Church, Vicars Generals, Justice Syriac Joseph (Chairperson, National Human Rights Commission), Dr. K.S. Radhakrishnan ( former PSC Chairman), Rev. Dr. T.J.Thomas, Rev. Dr. George Varghese, Rev. Abraham Varghese. The Bible Studies were conducted by Rev. Dr. M.V.Abraham and Rev. Dr. Alexander M.Issac.  The morning Devotion and Meditation was led by Rev. Sanil Mathew Alexander and the singing session Rev. John Mathai (Director DSMC), Rev. John T.George and Rev. Ashish Thomas George. The meeting was enriched by the Group Interactions, Paper Presentations and Panel Discussions on various topics.
The conference gave warm welcome to newly ordained 31 clergies and gave farewell to the 15 clergies who retired from the active service. The sharing of the memories by the Retired Achens during their time of Ministry was challenging and encouraging.
The conference came to an end on 25-11-2016 by the Holy Communion celebrated by Rt. Rev. Dr. Isaac Mar Philexenos Episcopa and the concluding remarks  of His Grace the Metropolitan.
Rev. Jojan Mathews John and Rev. Abey T.Mammen hold the responsibilities as the Convener and Treasurer of the conference respectively. Rev. Thomas Rinu Varghese and Rev. Vipin Kuruvilla served as the Conference Chaplains. The fraternal delegates from Church of South India and Malabar Independent Syrian Church also  attended the meeting .