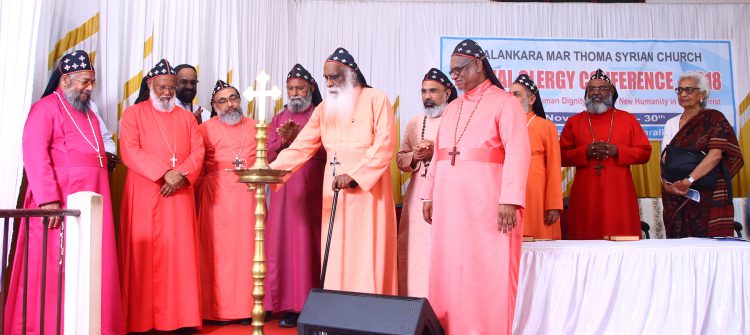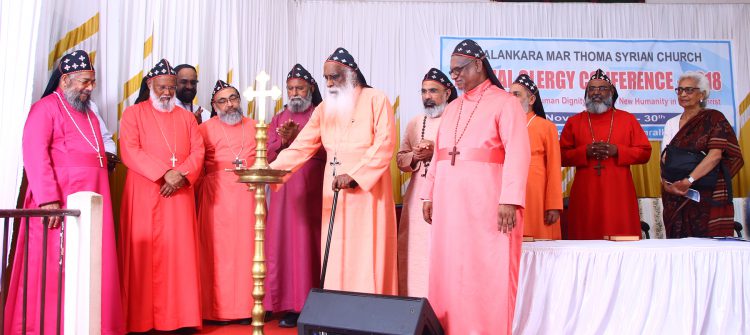 The Annual Conference of the Clergy of Malankara Mar Thoma Syrian Church was held at Christian Education Centre, Charalkunnu. The theme of the conference was Re-claiming Human Dignity through New Humanity in Jesus Christ. Various dimensions of the theme were analyzed and studied in detail.
Most Rev. Dr. Joseph Mar Thoma Metropolitan inaugurated the conference. In the inaugural Speech Metropolitan exhorted the need to uphold ethical values in the Society and to become the prophets of our times.
Rt. Rev. Dr. Geevarghese Mar Theodosius, Rt. Rev. Dr. Euyakim Mar Coorilos, Rt. Rev. Joseph Mar Barnabas , Rt. Rev. Thomas Mar Timotheos, Rt. Rev. Dr. Isaac Mar Philoxenos, Rt. Rev. Dr. Abraham Mar Paulos, Rt. Rev. Dr. Mathews Mar Makarios, Rt. Rev. Gregorios Mar Stephanos, Rt. Rev. Dr. Thomas Mar Theethos Episcopas attended the conference and led various sessions.
Rev. K.G.Joseph, Sabha Secretary welcomed the clergy to the three days gathering.
Rt. Rev. Dr. Geevarghese Mar Coorilos ( Syrian Jacobite Church, Niranam Diocese) led the main Classes.
During the conference, Prof. Dr. Susie Tharu, renowned writer and publisher, led a session based on the politics of New Humanity. Dr. Sunil P.Ilalayidam, led a session on Cultural dimensions of the New Humanity and Prof. C.R. Neelakandan, environmental activist, politician and writer, conducted a class on Human at the face of disasters with special reference to the recent flood in Kerala. Blessy, film director and screenwriter led a session in the conference. Rev. Dr. T.J.Thomas led a session on The New Humanity in Jesus Christ Challenges in Pastoral ministry. The meeting was enriched by the panel discussions and interactive sessions led by various dignitaries.
The conference remembered the life and witnesses of the bereaved priests since the last meeting. Also the conference welcomed the clergy who are ordained in this year.
Diocese-wise Bible study for the clergy was led by the following persons: Rev. Sabu Koshy, Rev. Dr. Joseph Daniel; Rev. V.M.Mathew, Rev. K.E. Geevarghese, Rev. Vinoy Daniel, Rev. Aby M.Thomas Tharakan, Rev. M.P.Samuel, Rev. Susheel C.Cherian, Rev. John Philip A., Rev. Thomas B. Rev. Dr. Joe Joseph Kuruvilla, Rev. Alex Mylachal, Rev. Dr. Sham P.Thomas, Rev. Mathew Baby, Rev. Mathew Skariah, Rev. Dr. Jamemson K.PallikunnilRev. K.C.Varghese, Rev. Pramod Zachariah, Rev. Dr. Mothy Varkey , Rev. John Philip P.
The Holy Communion for the final day was led by Rt.Rev Gregorios Mar Stephanos Episcopa. The conference came to an end with the prayer and benediction by His Grace the Metropolitan
Rev. Dr. Y.T.Vinayaraj and Rev. Alex Abraham served as the Convenor and Treasurer respectively.
Rev. Subin Sam Mammen and Rev. Ajin P. Raju were the conference chaplains