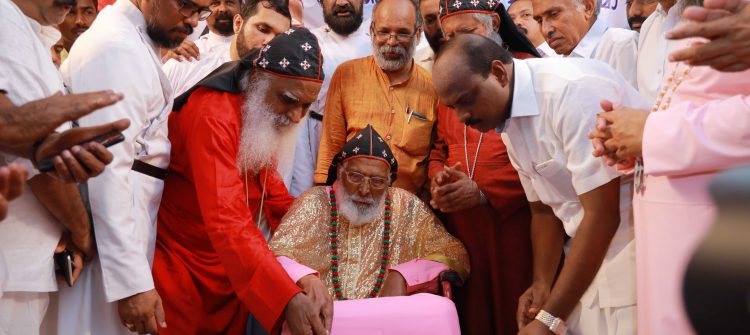 The 102nd Birthday of His Grace the Most Rev Dr. Philipose Mar Chrysostom Mar Thoma Valiya Metropolitan was celebrated on 27-04-2019 at the Chapel of Fellowship Mission Hospital Kumbanad.
His Grace Most Rev Dr. Joseph Mar Thoma Metropolitan celebrated the Holy Communion in the presence of Valiya Tirumeni and Rt.Rev. Dr. Euyakim Mar Coorilos Episcopa, Rt. Rev. Joseph Mar Barnabas Episcopa, Rt.Rev. Dr. Abraham Mar Paulos Episcopa, Rt. Rev. Dr. Mathews Mar Makarios Episcopa, Clergy and other faithful of the church. The worship was also a thanksgiving service for the life and witness of Valiya Tirumeni. After the communion a meeting was arranged in which the traditional Birthday Vattayappam was cut by the Valiya Tirumeni. Metopolitan reminded Chrysostom Tirumeni's contribution to create ecumenism, in its broad sense with the people of different faith and traditions. Metropolitan also recollected that now Chrysostom Tirumeni is the only living person who attended the Second Vatican Council. Valiya Tirumeni on the reply speech remembered the bounteous grace of God that showering through the past years. Tirumeni also remembered the need to care the less privileged people in the society.
Sabha Secretary Rev. K.G. Joseph, Rev. Thomas C. Alexander, Clergy Trustee, Sri P.P.Achankunju, Lay Trustee and Treasurer  gave the wishes of Sabha and gave a Ponnada to Tirumnei as a mark of love and respect.