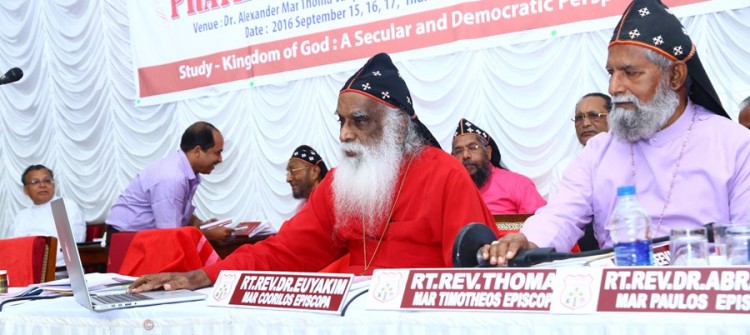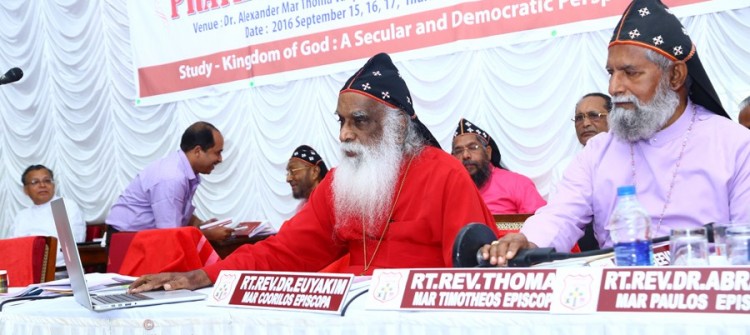 Malankara Mar Thoma Syrian Church developed two mobile Applications namely, 'Mar Thoma Priests' and 'Marthomian' as a quick information source about the Church and its Mission. The app is considered as an unparalleled mobile application with interactive design and creative ideas. The Apps are dedicated for the use of public in the Mandalam Meeting held at Tiruvalla Dr. Alexander Mar Thoma Smaraka Auditorium by the Most Rev. Dr. Joseph Mar Thoma Metropolitan.
The monthly letter of Mar Thoma Metropolitan to the faithful around the world included in the Malankara Sabha Tharaka can be accessed from this application. Besides the details of the Bishops and Clergy with their Photos, Contact details, Place of service can be accessed from this app. Simply touching the mobile number helps either to make calls or to send messages to them. The Lectionary tab helps to find the Lectionary for each Sundays and Special Occasions. Bible portions can be read in English or Malayalam by just tapping over them. The Latest News section is an updated section which will communicate the latest happenings in the Church. The Parish, Institutions, Organisations and Publications tabs are meant to get the information about the same from all the people. The Locations tab is a Beta version in an ongoing process of development. It involves locating the Mar Thoma Parishes/Institutions within a specified radius which will be very useful for the people who are new to a place and searching for the Parishes/Institutions.
Android: https://play.google.com/store/apps/details?id=com.novo.marthoma&hl=en;
IOS:  https://itunes.apple.com/in/app/marthomian/id1123012758?mt=8
The 'Mar Thoma Priests' application which is similar to the 'Marthomian' is reserved only to the clergy of the Church. The access to the data is controlled by the special permission to the App given by the Mar Thoma Sabha Office, Tiruvalla. It involves Birthday reminders, Personal Programme Planner, Notifications from Mar Thoma Sabha Office and so on.
Android : https://play.google.com/store/apps/details?id=com.novo.marthomapriest&hl=en
These Apps are basically designed to work in Offline mode but will be updated whenever the phone becomes online.