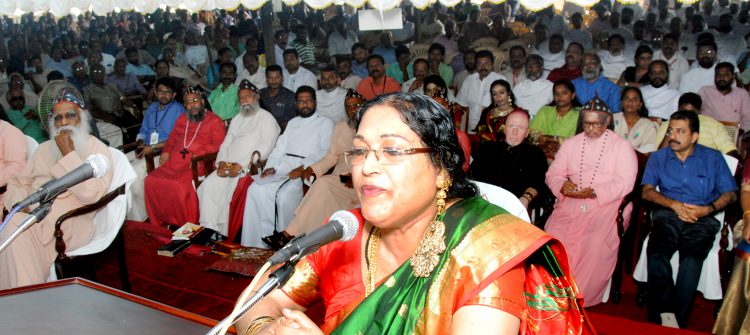 5th February 2018 the Maramon Convention, placed a landmark in its history, as the convention eagerly listened to the voice of a Transgender during the Yuvavedi meeting (meeting of the Youths). Selin Thomas, a transgender and a Marthomite gave the main talk on Mercy and Vigilance: Gender Justice Perspective. This occassion was an event to hear the criesand aspiations of the Third Gender in the Society.
The meeting was presided by the Rt. Rev. Dr. Thomas Mar Theethos Episcopa. Tirumeni during the presidential address reminded the need to take the challenge of the times, especially to take sides with the marginalised. Most Rev. Dr. Joseph Mar Thoma Metropolitan while inaugurating the meeting explained the Biblical outlook, wherein sexual minorities are portrayed as God's chosen people, who seek and follow the Divine precepts and inherit God's providence. Metropolitan reiterated that in this vision the Sabha took up the unique project, Navodaya: Ministry to the Transgenders, in connection with the Birth Centenary of Padma Bhushan Most Rev. Dr. Philipose Mar Chrysostom Mar Thoma Valiya Metropolitan.
Selin Thomas, out of her experience, explained the physical, mental and other forms of oppressions they face which results even in fleeing from thier own home land and dear ones. A transgender is not allowed to cry or laugh and even considered as a bad omen. Selin reminded that the gender equality will be achieved only when there is a space for expressing the emotions as a fellow Human Being.
Selin thanked the Vision of the Mar Thoma Church for taking this bold initiative. She quoted the scripture portion in Isaiah 56 about the Transgenders. She reminded the participation in the Christmas programme in 2013 "Gloria in excelsis" organised by the Delhi Diocese of the Mar Thoma Church which was an exceptional initiative at that time, to include transgenders also.
Srikutty, a transgender activist also thanked the vision of Sabha, which is scripting history in Modern Kerala. She emphasized the bold step of the Church in accepting thier identity as created by the God.
---