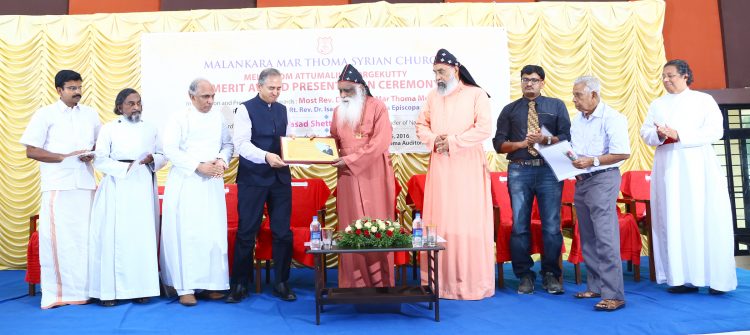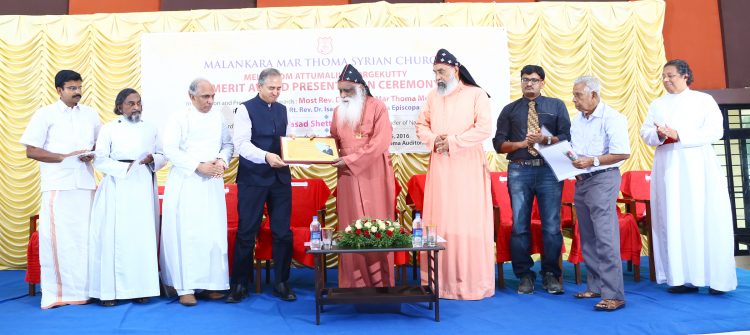 Malankara Mar Thoma Syrian Church, Melpadom Attumallil Georgekutty Award presentation ceremony was held on Saturday the 26th November 2016 at Dr. Alexander Mar Thoma Valiya Metropolitan Smaraka Auditorium. This Award is an esteemed philanthropic endeavor with a noble vision to honour illustrious personalities renowned both nationally and internationally in the fields of Science, Technology Medicine and Peace.  This award is instituted by Mr. A.V. Jones, who is interested in promoting Scientific and Technical studies.
His Grace The Most Rev. Dr. Joseph Mar Thoma Metropolitan Inaugurated the Ceremony and presented the awards. Recognizing the outstanding contributions to the Humanity in the Field of Medicine and Surgery, the Merit Award was presented to Dr. Devi Prasad Shetty, Chairman and Founder of Narayana Health. Melpadom Attumallil Georgekutty Young Scientists Awards were presented to Dr. Dharmendra K. Maurya (Scientific Officer , Bhabha Atomic Research Center, Mumbai) and to Dr. Abdus Samad (Associate professor Dept of Ocean Engineering, IIT Madras).
The meeting was presided by Rt. Rev. Dr. Isaac Mar Philoxenos Episcopa. Senior Vicar General Very. Rev. Dr. Cherian Thomas , Sabha Secretary Rev. Oommen Philip , Clergy Trustee Rev. Lal Cherian, Mr. A.V. Jones Lay Trustee and Treasurer Adv. Prakash P. Thomas attended the meeting.