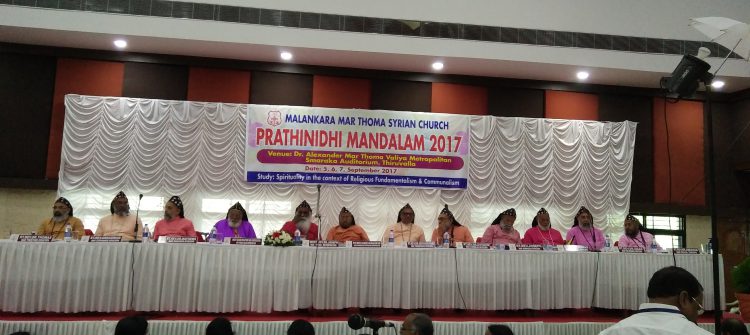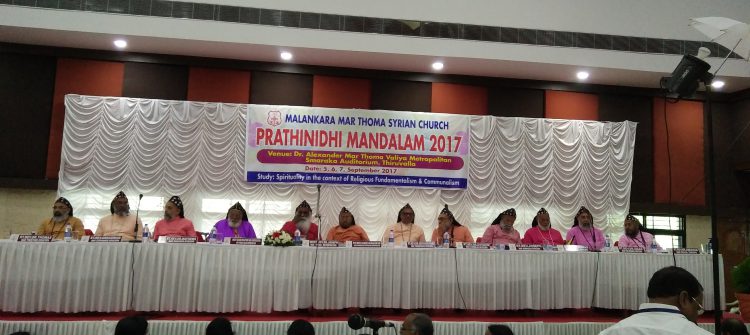 The annual General Body of the Malankara Mar Thoma Syrian Church, Sabha Pratinidhi Mandalam, was conducted from September 5-7, 2017 at Dr. Alexander Mar Thoma Valiya Metropolitan Smaraka Auditorium in Tiruvalla. His Grace the Most Rev. Dr. Joseph Mar Thoma Metropolitan presided over the meeting.
The meeting began with the worship service. The scripture portion was read by Mr. Thomas Benchamin IAS. Rev. Mathew P. Thomas, Rev. C.V.Symon and Adv. Oommen Thomas were appointed as recording secretaries.
Dr. Mathews George Chunakara, General Secretary of Christian Conference of Asia, who led the devotion recollected the long term relation between the Mar Thoma Church and CCA. He exhorted the need of the liberation of entire creation through the Gospel and the role of responsible Christians to broaden the borders of the society to include the marginalized.
H.G.Dr. Joseph Mar Thoma Metropolitan delivered the Presidential address. In His Graces' address, Tirumeni reminded the wondrous ways through which God Almighty had led the Church, especially at the times of difficulty. Tirumeni reminded about God's calling to be as the co workers in the Kingdom of God.
The Mandalam expressed condolences to the family and relatives of the Achens who are called to eternity during the last financial year.
During  the Mandalam, Holy  Communion was celebrated by Rt. Rev. Joseph Mar Barnabas Episcopa  in St .Thomas Mar Thoma Church Tiruvalla . The Achens who retired from the active service  in 2016-2017  viz. Very Rev. Skariah Abraham, Very Rev. Dr. Cherian Thomas, Very Rev. Dr. C.K.Mathew, Very Rev. Dr. Jayan Thomas, Rev. Dr. Joseph Thomas, Rev. George K.John, Rev. Ninan Varghese, Rev. T.O.George, Rev. Mammen Samuel, Rev. John N.Abraham, Rev. Varughese K.Mathew, Rev. J.Chinnadore, Rev. Abraham Thomas (Ranny), Rev. Mathew David, Rev. T.K.John, Rev. C.G.Samuel, Rev. Dr. Koshy Mathew, Rev. C.V.Mathew, Rev. Mathew Sakariah (Edayarumula) were  honoured. On behalf of the Church, the Mandalam expressed its sincere gratitude to the meritorious service of the Achens given to the Church.
Sabha Secretary Rev. Oommen Philip presented the Annual report and Accounts of Sabha for the year 2016-2017. Adv. Prakash P. Thomas, Lay Trustee and Treasurer presented the annual budget of Rs. 116 crores. Clergy Trustee Rev. Lal Cherian presented the Statutory Auditor's Panel for 2017-18.
The following awards were distributed in the function:
Mar Thoma Manavaseva  Award 2017: Dr. T.T.Joseph, Pollachi St. Thomas MTC
Mar Thoma Karshaka Award 2017: Mr. S. Issac , Kannampally Sehion MTC
Malieckal M.C.George Achen Memorial Award: Rev. Dr. K.Jamesson, Keezhvaipur St. Thomas MTC   (Book: The  Eucharistic Liturgy)
Rev. Mathew Thomas Vattackottal Memorial Endowment Fund: Rev. Dr. Abraham Philip, Mar Thoma Theologocal Seminary, Kottayam (Book: യോഹന്നാന്‍ എഴുതിയ സുവിശേഷം ചരിത്രവും ദൈവശാസ്ത്രവും)
Mar Thoma Haritha Award:
Parish: Kottayam Jerusalem Mar Thoma Church
Institution : Mar Thoma Theologocal Seminary, Kottayam
School: CDA UP School, Olive Mount, Kuzhalmannam
Award for maintaining the Cemetery of the Parishes: Elanthoor Mar Thoma Valiya Pally
Mar Thoma Merit Award:
Teachers who got Doctoral Degree:
Dr. Ajesh K. Zachariah, (Chengamanadu Immanuel- Mar Thoma College, Thiruvalla)
Dr. Anish K. John, Vazhuthacaud Salem MTC (Govt. Engineering College, Thiruvananthapuram)
Dr. Blessen Skariah Thomas, Kavumgumprayar St.Thomas MTC(Providence College of Engineering, Chengannur)
Dr. John George Athyal, Eruvellipra Christhos MTC (Christian College, Chengannur)
Dr. Sheeba K. John, Valiyode Salem MTC (St.Thoms College, Kozhencherry)
Dr. Sibin Mathew Medayil, Puliyoor St.Thomas MTC (CMS College, Kottayam)
Student who secured Rank: Miss. Leeba Merin Sam, Immanuel Mar Thoma Church, Thadiyoor, M. Tech 1st  Rank
Award for the Dalit Student who secured exemplary success in SSLC exams: Ms. Sneha Jacob, Pandankary St. Thomas Mar Thoma Church
Rev. Dr. Abraham Philip Convenor of the Mandalam Study Committee presented the Study Book based on the Theme Spirituality in the context of Religious Fundamentalism and Communalism ( ആധാത്മികത: മത മൌ ലികവാദത്തിന്റെയും വര്‍ഗീയതയുടെയും പശ്ചാത്തലത്തില്‍ ) and the Mandalam members actively participated in the discussions. It was suggested to study the matter in the parishes and various conferences of the Church.
Mar Thoma Sabha Pratinidhi Mandalam expressed its deep grief and anxiety in the shocking incident of the murder of the Senior Journalist  Gauri Lankesh.
The following persons are elected as the office bearers of the Church for 2017-2020:
Sabha Secretary: Rev K.G.Joseph
Clergy Trustee and Treasurer: Rev. Thomas C.Alexander
Vaideeka Selection Committee
Rev. Dr. Easow Mathew
Rev. C.V.Symon
Rev. Dr.K.A.Abraham
Rev. Dr. John Philip A.
Rev. Joseph Mathew
Prof. Jacob George
Prof. Dr. Jacob George Mallappally
Adv. Prakash P.Thomas
Prof. Thomas K.Varghese
Adv. Suresh Koshy
Adv. Mathew T.Abraham
Prof. Dr. Manu Thomas
Dr. George Varghese
Mandalam approved the Sabha Council Members for 2017-2020 namely:
Niranam -Maramon Diocese
Alex P. John ( C307)Thalavady Padinjarekara Mar Thoma Church
John Abraham(L856) Varicadu Sehion
Sheela Elizabeth Mathew(L235) Kuttappuzha Jerusalem
Jacob Immanuel(L155) Pularicadu St. Marks
Kottayam- Kochi Diocese
Daniel Thomas ( C170), Elamkulam Jerusalem
Jossy Kurian( L234),Kootharappally Jerusalem
Sosamma Varghese (L332) Thelliyoor Christos
Alex P. George(L127),Ericadu Moria
Malaysia-Singapore-Australia- New Zealand Diocese
George Thomas  (L769)Melbounne Mar Thoma
 Ranni-Nilakal Diocese
Jacob George C.(C166) Pathanamthitta Mar Thoma
Major M. G. Varghese(L269)Kanakapalam Jeruslaem
Geetha Mathew(L844)Pathanamthitta Mar Thoma
Abraham P. Thomas(490) Keekozhoor East Immanuel
Sam Mathew C.(L177) Naranganam St. Thomas
 Mumbai- Diocese
Eapen Abraham(C387) Mulund North Bombay
Ani Koshy (L086) Nerul Immanuel
John Mathew ( Roy)(L933) Thane Mar Thoma
 Kottarakara-Punalur Diocese
Dr. P. J. Mamachen( C085), Pooyappally,St. Thomas MarThoma Church
Brijesh Abraham(L654),Valakom MarThoma
Sajimon P.A (L203), Manjakkala Trinity
Alice Mathew (L654), Panaveli Bethel
 Trivandrum- Kollam Diocese
Thomas Mathew ( Vilangara),(C061) Mar Thoma church Perungalloor
Johnson Abraham ( L489) Mathaimukku Immanuel
Mini George( L 840)Channapetta Bethanny
 Chengannur-Mavelikkara Diocese
Daniel M.S(C214), Chennithala St. Peters
Koshy Mathai(L-140), Othera St. Pauls
Aji Alex(L-400) Elanthoor Valiyapalli
P.J. Mariamma( L-371), Pennukara Immanuel
 North America -Europe Diocese
Jogy Thomas (C 464) Epiphany MTC
Nirmala Abraham(L019)Philadelphia MTC
Varkey Abraham( L278) Long Island MTC
Adoor Diocese
Alexander Tharakan T.K (C255), Thumpamon Muttom Salem
Oommen Thomas(L920) Kayamkulam Salem
Binu p. Rajan(L169) Kannamcode Mar Thoma
Jiji Mathew(L 348 ) Nooranadu Salem
 Chennai- Bangalore
Thomas John A. (C284) Hyderabad St. Thomas RC Puram
Kunjuvarghese Cherian(L025) Bangalore East
Jaya Mathew(L892)Nilgiri MTC Coonoor
 Kunnamkulam- Malabar Diocese
Kuruvilla Philip(C054)Nilambur  St. Thomas Mar Thoma Church
M.C. Mathukutty(L750)Chanthakunnu St. Pauls
Valsamma Mathew( L247) Sulthan Bethery Jerusalem
 Delhi-Diocese
Alexander Thomas(C 103) Indore
Sunny( L931)New Delhi St. Thomas ( Karol Bagh)
Binu Mary Babu (L512) Noida Immanuel
Gulf Region
Koshy Samuel (L932) Bahrain
Rev. Oommen Philip expressed the vote of thanks to the Mandalam and the meeting was concluded by the Prayer and Benediction by His Grace the Metropolitan.
Most Rev. Dr. Philipose Mar Chrysostom Mar Thoma Valiya Metropolitan, Rt. Rev. Geevarghese Mar Athanasius Suffragan Metropolitan, Rt Rev. Dr. Geevarghese Mar Theodosius Episcopa, Rt.Rev. Dr. Euyakim Mar Coorilos Episcopa, Rt. Rev. Joseph Mar Barnabas Episcopa, Rt. Rev. Dr. Thomas Mar Timotheos Episcopa, Rt. Rev. Dr.Isaac Mar Philexenos Episcopa, Rt.Rev. Dr. Abraham Mar Paulos Episcopa, Rt Rev. Dr. Mathews Mar Makarios Episcopa, Rt. Rev. Gregorios Mar Stephanos Episcopa and Rt.Rev. Thomas Mar Theethos Episcopa attended the function.