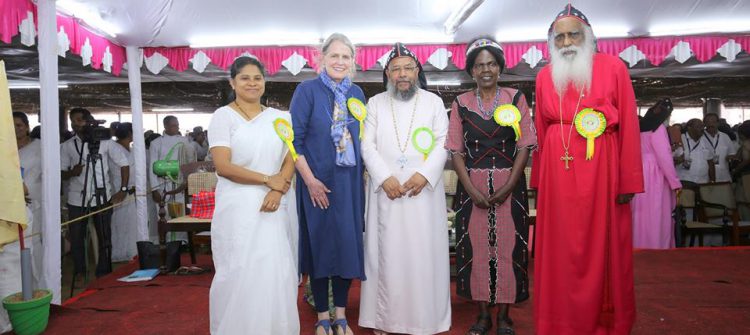 World Mar Thoma Women's Meet, the valedictory function of the Centenary Celebrations of the Mar Thoma Suvishesha Sevika Sangam was held on 9th February 2019 at Maramon Sandbed. The Rt. Rev. Dr. Abraham Mar Paulos Episcopa, the President of Mar Thoma Suvisesha Sevika Sanghom presided over the meeting.  Women from all over the globe attended this historic summit.
The meeting was inaugurated by His Grace the Most Rev. Dr. Joseph Mar Thoma Metropolitan. Metropolitan highlighted how the leadership and witness of the women is a rich heritage of Mar Thoma Church. Women with a deep sense of call and dedication toiled all through the hundred years of Sevika Sanghom.
Dr. Agnes Regina Murel Abuom, the moderator of the Central Committee of World Council of Churches was the guest of honor. Dr. Agnes conveyed the wishes from WCC and exhorted that the faith of the mothers and sisters of the old generation be relected by the newer generation in truth and spirit.
The felicitations to the meeting was conveyed by the Dr. Anne Mathews Younes, the grand daughter of Dr. Stanley Jones who has been the leader of Maramon Convention, and the President of the E. Stanley Jones Foundation gave felicitations to the meeting.
During the meeting, two books, a documentry and a CD of Penpattukal (Songs of Women) was released in the meeting.  The Centenary Choir comprising of 100 members  sang the Centenary song led by Ms. Alisha Thomas, renowned singer. An exhibition regarding the history of the Sevika Sangom was also arranged in the sand bed.
The other Bishops of the Mar Thoma Church, leaders from the socio-political realm attended the meeting.