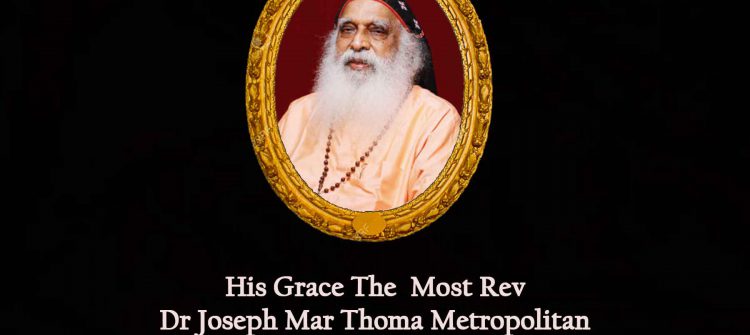 The 21st Mar Thoma Metropolitan, Most Rev. Dr. Joseph Mar Thoma Thirumeni left for his heavenly abode at 2:38 AM on Sunday, 18th October 2020 at Believers Hospital, Kuttapuzha.
The body was kept in Air-conditioned Cabin, on a platform for public viewing in the Dr. Alexander Mar Thoma Smaraka Auditorium, Thiruvalla for people from far and near to pay their last respects, from 8 AM on Sunday the 18th October 2020. The first part of the funeral service was held at 8 AM on 18.10.2020 led by Rt. Rev. Dr. Geevarghese Mar Theodosius Metropolitan Metropolitan in charge and the Second service was held at 6 PM on 18th  led  and third service at 8:30 AM on 19th October 2020 Several choirs from the different parishes of our Church and DSM&C have been engaged in singing songs continuously for two days in succession without let or hindrance. The funeral service was conducted at 3PM on Monday, the 19th of October 2020 following the fourth service at the temporary Madbaha, at Dr. Alexander Mar Thoma Auditorium Thiruvalla. The devotional address was led by Rt. Rev. Dr. Euyakim Mar Coorilos Episcopa.  The body was laid to rest using a body lowering machine in the crypt alongside the crypts of the late lamented fathers, adjacent to St. Thomas Mar Thoma Church, Thiruvalla. The crypt was filled with frankincense.  The whole event was webcasted and more than 15 lakh people viewed the whole event.
The prelates of various churches, the social, political and administrative leadership, community of faithful and the civil society shared their condolences and paid homage.
 Day 1 (18.10.2020)
Day 2 (19.10.2020)