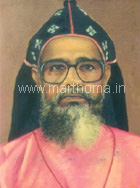 His zeal for mission made him dedicate his life for missionary work. He worked as a member of the Christa Panthi Ashram, Sihora for 21 years from the age of 20. He had his theological education at the Leonard Theological College, Jabalpur and later at St. Augustine College, Canterbury, UK. His life of prayer and deep spiritual experience are his special characteristics. He is deeply interested in rural development activities and has been on two occasions to Japan for obtaining training in this area.
He was consecrated Bishop along with Joseph Mar Irenaeus in February 1975 and was given charge of the Kunnamkulam-Malabar Diocese where he worked strenously for the uplift of the parishes in those undeveloped areas of Malabar. He has been Chairman of the Governing Board of the Mar Thoma College Chungathara, which was started out of his personal interest in the development of that region. He has been Chairman of the Committee directing the Wandoor project for the integrated development of five Panchayats in that area.
Being also in charge of the Parishes in the Arabian Gulf area, he raised funds from there for the development of Malabar area. On the rearrangement of the Dioceses, after the demise of Thomas Mar Athanasius Suffragan Metropolitan he took charge of the Adoor Mavelikara Diocese. He helped many to find new life in Jesus Christ. He was very much in demand as a convention speaker and for leading retreats and conferences. His sudden demise at Port Blair, Andamans on 11th April 1988 was a great loss to the Church.