Rt. Rev. Dr. Abraham Mar Paulos Episcopa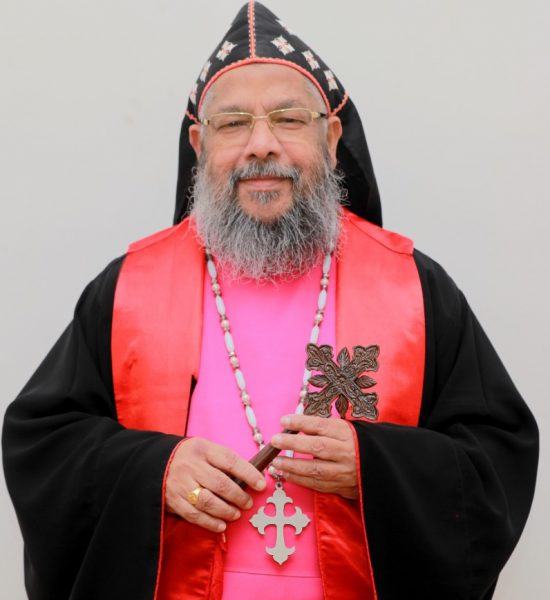 Hermon Aramana
Adoor - 691523
Pathanamthitta Dist.
Kerala, India.

MANGANAM ST PETERS MAR THOMA CHURCH

+914734228240

+914734229130
Rt. Rev. Dr. Abraham Mar Paulos Episcopa ( Rev. Dr. K.U.Abraham) was born on 16th August 1953 as the son of Kanjirathara KC Uthuppu and Sosamma of Kottayam Manganam St. Peters Mar Thoma Parish. He completed school education from Muttampalam Govt. LP School and Kottayam MT Seminary High School. College education was done in CMS college and Baselios College of Kottayam. Theological study was done in Kottayam Mar Thoma Theological Seminary. He was ordained Semmas on 31st May 1980 and Kaseessa on 28th June 1980. Higher studies was one in Princeston University. He got doctorate from Boston University in Christian Education. He was consecrated as Ramban on 11th February 2005 by Geevarghese Mar Athanasius Thirumeni at Kottayam Jerusalem Mar Thoma Church. In the Silver Jubilee year of his priesthood he was consecrated as Episcopa by Dr. Philipose Mar Chrysostom Mar Thoma Metropolitan on 14th May 2005 at SCS, Thiruvalla. During his Theological studies he was elected to the Senate of Serampore University.
He was active in the public even when very young through Akhila Kerala Balajana Sakhyam. He provided glorious service as the General Secretary of Sunday School Samajam. Children's Maramon organized in connection with the Centenary of Sunday School Samajam was an outstanding example of his leadership qualities and organizing ability.
He provided laudable leadership as Chairman of the Socio Political Commission of the Church, member, CMC Ludhiana Director Board and SHIATS University Director Board, Vice President of Bible Society of India Delhi Auxiliary and Chairman of Dharmajyothi Vidyapeet.
Thirumeni is an outstanding orator and scholar in addition to being a friend of the children and youths. He served in Chengannur – Mavelikkara Diocese and as head of Thiruvananthapuram – Kollam and Mumbai Dioceses. Thirumeni considers his call as God's Commission for hard work and commitment and finds strength in God's mercy and love of the members of the Church. As he cares for humility and systematic work Thirumeni is always busy to know the people more and more and do some good for them. He takes special care to make the activities in the Parishes lively.
Details
Parents
Manganam Kanjirathara K C Uthup and Sosamma
Ordained as Deacon
05/31/1980
Ordained as Kassissa
06/28/1980
Ordained as Ramban
02/11/2005
Consecrated as Episcopa
05/14/2005