Rt. Rev. Dr. Gregorios Mar Stephanos Episcopa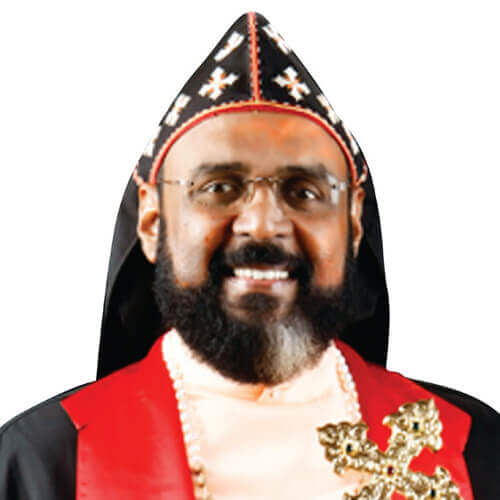 MAR THOMA HERMITAGE,
VANCHITRAMALA,
KOZHENCHERRY P.O., PATHANAMTHITTA DIST.
KERALA 689641.

KOCHI ST GEORGE MTC

9447965345
Rt. Rev. Dr.  Gregorios Mar Stephanos Episcopa
Rt. Rev. Dr. Gregorios Mar Stephanos Episcopa was born on 16th March 1959 as the son of Kochi Panayapally Parayil Sri. K.P. Varkey and Smt. Kunjamma. Fort Kochi St. George is the mother Parish.
He continued his education in Kochi where his father was employed after early studies in Niranam Mar Thoma LP School. After completing Pre-Degree from Cochin College he took BA and MA in Philosophy from Maharajas College. Then he procured MPhil from Chennai University. Along with college education he was member of College football and hockey teams in addition to being the General Captain of the college and proved his ability.
During 1982-86 he got degree in theology from Kolkotta Bishops College. Thereafter he was ordained as Semmas on 16th March 1986 at St. Thomas Church, Thiruvalla and as Kaseessa on 27th June 1986 at his home Parish by Easow Mar Timotheos Episcopa.
Bilaspur, Korba, Ambikapur, Chennai-Chetpet, Thambaram, St. Thomas Mount, Kolalampur, Ranchi, Mumbai Santacruz, Maramon, Venmoney, Kavumbhagom were the parishes he served as Vicar.
He was awarded with many prizes in recognition of his efficient management of the School as the Principal of St. Thomas School, Ranchi. Chief among them were the honour from Prathibha Udhan Samithi, International Millenium Gold Star, Vijayasri Puraskar. The active leadership of Mumbai Navajeevan Kendra, Medical Mission Secretary and leadership of education reform Committees were rich experiences of active life. He led the mission work of Ranchi also.
He was consecrated as Ramban on 7th May 2011 at the specially prepared holy Madbaha in the St. Alberts College ground by Geevarghese Mar Theodosius Episcopa along with Rev. Dr. Varghese Mathai and Rev. Dr. Oommen George. He was elevated as Episcopa with the name Gregorios Mar Stephanos on 13th August 2011 at the specially prepared Holy Madbaha at the Thiruvalla SCS ground.
Strong leadership ability, unshakable faith in God and timely vision of Kingdom of God activities are the hall mark of Thirumeni's activities.
Details
Parents
Kochi Panayapally Parayil Mr.K.P. Varkey and Mrs. Kunjamma(Late)
Ordained as Deacon
06/27/1986
Ordained as Kassissa
07/30/1986
Ordained as Ramban
05/07/2011
Consecrated as Episcopa
08/13/2011