Rt. Rev. Thomas Mar Timotheos Episcopa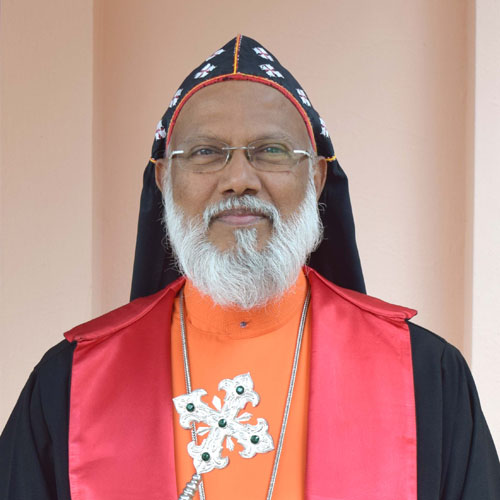 Olivet Aramana,
Thittamel, Chengannur, Alappuzha Dist. - 689 121
Kerala, India.

MULAKUZHA ST THOMAS MAR THOMA PARISH

+914792454747

+914792456667

+919447066957
Thomas Mar Timotheos Episcopa with a personality that is the sum total of energetic personal superiority, committed style of functioning and calm and meek behaviour was born as the son of Mulakuzha Angadical South Kaleekkal Thekkethil Lovedale Rev. K.N. George and Rachel George on 13th December 1950. He had his school education in Venmoney, Kaviyoor, Thalavoor, Angadical South and Kidangannoor. He had his BA from Christian College Chengannur and MA from Sardar Patel University, Gujarat in English language and literature. After teaching in Lunavada and Modasa Colleges under Gujarat Univesity from 1974 to 1979 he joined United Theological College, Bangalore and took BD Degree. He was ordained Semmas on 28th May 1983 and Kaseessa on 10th June by Thomas Mar Athanasius Suffragan Metropolitan at St. Thomas Mar Thoma Church, Thiruvalla. He served Surat, Vapi, Valsad, Angaleswar, Beruch, Tharapur, Gudallur, Philadelphia Bethel in America, Kochukoickal, Kottamanpara and Moonnukal Parishes. He was the Principal of St. Thomas English Medium School, Gudallur. He obtained M Th degree from Princeton Theological Seminary.
Mar Thoma Sabha Prathinidhi Mandalam selected Rev. K. Thomas George as Episcopa. He was consecrated as Ramban on 31st August 1993 at Mavelikkara Mar Thoma Church by Dr. Zacharias Mar Theophilus Thirumeni along with Rev. Joseph Jacob and Rev. Dr. A.I Isac.
On 2nd October 1993 he was consecrated as Episcopa with the name Thomas Mar Timotheos by His Grace Dr. Alexander Mar Thoma Metropolitan at the temporary Madbaha prepared at the SCS Compound, Thiruvalla.
In consequence of the redivision of Diocese he was entrusted with Madras – Calcutta, Malasia-Singapore-Australia Dioceses. He served as President of National Missionary Society, Council member of Vellore Medical College, Zonal Committee member- Madras- Calcutta of CASA and as Executive Committee member of CISRS. Along with the responsibility of the Parish of the Diocese he supervised Devanahalli Mission of Karnataka region, Medakur Mission Navajeevan Kendra of Andhra Pradesh, Neeratmed, Navajeevan Kendra Ranchi of Bihar and Hospital Guidance Centre, Vellore. Moreover Balavadies, basic education centres and medical work were also started. The construction of Dr. Alexander Mar Thoma Hospital Guidance Centre at a cost of 60 lakhs was completed near Vellore Medical College. He gave leadership to construct a Diocesan Headquarters at Chetpet, Chennai called Mar Thoma Bhavan collecting 85 lakhs for it. He served as Episcopa of Kunnamkulam- Malabar Diocese from 1st October 2001. He was manager of Mar Thoma College, Chungathara, Mar Thoma College of Special Education, Kasargod, School for Deaf and Mar Thoma Higher Secondary School, Chungathara. He initiated LTC-Life's Tithe for Christ in the Church. Mukthi De-addiction Centre, Nadavayal, Wayanad and Darshana De-addiction Centre, Sholayoor were started during his period. He was able to lead various mission fields and establishments from Thrissur to Kasargod. He represented the Church in Christian Conference of Asia. Sadanandapuram Mar Thoma Mount TMTS Centre, Sanoha, Peringalam Mar Thoma Dhyanatheeram on the shore of Ashtamudi Lake, Peyad, Nairmalya De-Addiction and Counselling Centre, Charupara Vayojana Mandiram Mar Chrysostom Hall, all these were started under the leadership of Thirumeni. The meditative life style and leadership of Thirumeni is a great blessing for the Church.
Details
Parents
Mulakuzha Kaleekkal Thekkethil Love Dale Rev. K N George and Rachel George
Ordained as Deacon
05/28/1983
Ordained as Kassissa
06/10/1983
Ordained as Ramban
08/31/1993
Consecrated as Episcopa
10/02/1993