His Grace The Most Rev. Dr. Theodosius Mar Thoma Metropolitan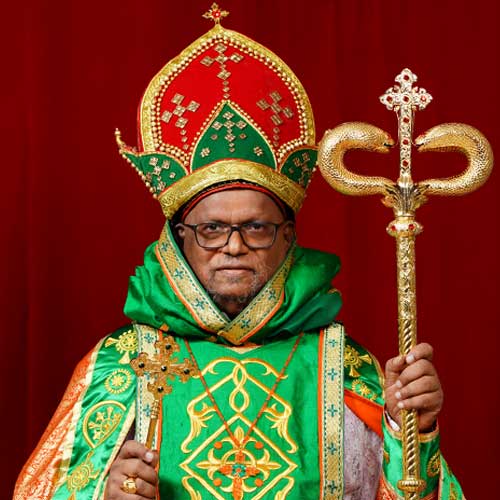 Metropolitan
Poolatheen
Tiruvalla
Pathanamthitta Dist
Kerala, India

ASHTAMUDY IMMANUEL MAR THOMA

7045875688
Mar Theodosius studied at Baselious College, Kottayam (1966) and Mar Thoma College, Thiruvalla (1969). After taking a degree in Science he joined Leonard Theological College and took BD Degree in 1972. His ordination as 'Kasseesa' was in the year February 24, 1973. From 1979-1980, he studied  Comparative Religions in Viswa Bharathi University, Shanthinikethan. He did his MA and PhD from Mc Master University, Hamilton, Canada in 1980-1986.  He was consecrated as Episcopa on December 9, 1989 along with Mar Athanasius and Mar Coorilos.
From 1973 onwards, he was in charge of several parishes including Mumbai Santacruz, Calcutta, Parishes in Canada and Rochester in USA, Nanthancode and Calicut St. Pauls. He served as the first Director of Thomas Mar Athanasius Orientation Centre, Manganam. On consecration as Episcopa he was given charge of Kunnamkulam – Madras Diocese. He was the Episcopa of the Kunnamkulam- Malabar, Tiruvananthapuram- Kollam, Chennai – Bangalore, Malaysia – Singapore – Australia, North America- Europe Dioceses. He is presently the Diocesan Bishop of the Niranam- Maramon, Mumbai and Ranni-Nilackel Dioceses.
On July 12th 2020, he was given as the title, The Suffragan Metropolitan, during the service at Poolatheen Chapel officiated by the Metropolitan The Most Rev. Dr. Joseph Mar Thoma in the presence of the Bishops, Clergy and laity of the Church.
On November 14, 2020, Tirumeni was installed as the 22nd Mar Thoma Metropolitan with the title Theodosius Mar Thoma Metropolitan. The Installation Service was held at Dr. Alexander Mar Thoma Valiya Metropolitan Smaraka Auditorium, Tiruvalla.
Details
Parents
Ashtamudi Kizhakkechakkalayil Dr. K J Chacko and Simoni (Mariamma)Chacko
Ordained as Deacon
24/06/1972
Ordained as Kassissa
24/02/1973
Ordained as Ramban
11/04/1989
Consecrated as Episcopa
12/09/1989
Installed as Suffragan Metropolitan
12/07/2020
Installed as Mar Thoma Metropolitan
14/11/2020