Rt. Rev. Dr. Zacharias Mar Theophilus Suffragan Metropolitan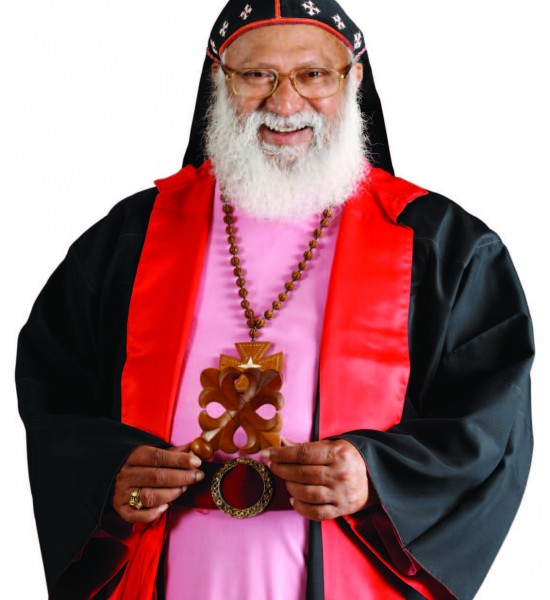 Dr. Zacharias Mar Theophilus Suffragan Metropolitan belongs to the Mattackal Venparampil family of the Niranama Jerusalem Mar Thoma Parish. Born on 29th August 1938 as the son of Sri V.K. Oommen and Smt. Mariamma Oommen having a brother and three sisters. Thirumeni was a personality searching for new path for spiritual activities by a perfect combination of knowledge and experience amidst contrasts and diversities. Appealing personality, warmth of friendly relations and an affinity for new ideas in theological thinking make Thirumeni different from others and at the sametime make him very dear to all without any difference in age.
Completing school education from Niranam St. Mary's High School Oommen Koruth got BSc., B.Ed degrees studying in NSS College, Changanacherry, UC College, Alwaye and Titus II Teachers Training College Thiruvalla. Starting his career as a teacher Oommen Koruth worked in Settlement School, Alwaye in 1959 and in Ashramam High School, Perumbavoor in 1961. Accepting the divine call for full time ministry he joined the Leonard Theological College, Jabalpur and got B.D. Degree. He was ordained Semmas in May 1966 and Kasessa in July. Joining as teacher in Ashramam High School there after he served the nearby parishes as well. In 1969 he took charge of St. Thomas School, Mysore. Procuring land for the school a new building was constructed and the school was shifted there from the rented building and the school worked well there. He served as vicar of Mysore parish also. He worked as teacher and boarding superintendent in St. Thomas Residential School, Thriuvananthapuram serving nearby parishes as well.
Rev. Oommen Koruth joined Princeton Theological Seminary for higher studies. He got THM degree from Princeton and Doctorate from Boston University. He was able to lead in the formation of NewYork, Boston and Philadelphia parishes. On his return to India after higher studies he served in the Bombay Santacruz and Kozhencherry Parishes.
The Sabha Prathinidhi Mandalam at its meeting in Thiruvalla on 8th February 1980 selected Rev. Oommen Koruth as an Episcopa. He was consecrated as Ramban on 26th April 1980 at St. Thomas Church, Kozhencherry and as Zacharias Mar Theophilus Epsicopa on 1st May at the Madbaha in the SCS Compound Thiruvalla. He was given charge of Adoor – Mavelikkara Diocese. He was President of Mar Thoma Yuvajana Sakhyam also during this period. In addition he took charge of Kottayam – Ranni Diocese from 1984 and Kunnamkulam – Malabar Diocese from 1987.
He served as head of North America – Europe Diocese spreading all over North America, Canada UK and Germany from 1993 to 2001 staying in New York. Under his leadership this Diocese achieved tremendous development. In 1997 the Mar Thoma Church became a member of National Council of Churches of Christ in USA. Mar Thoma congregations were formed in Germany and Switzerland. Arrangements were made for shepherding the Diaspora community in Africa, Australia and New Zealand. He worked as head of Chennai-Bangalore Diocese from 2001 to 2005. He gave monumental leadership during this period for mission activities in Karnataka, Andhra and Tamil Nadu states. During this period he was President of Mar Thoma Suvisesha Sevika Sanghom. In 2005 he took charge of Chengannur – Mavelikkara Diocese. In order to broaden the activities of Narasapuram, the mission field of the Diocese land was bought and school and clinic were started. Karuthal – Cancer care and Counselling Centre was started. He served as president of Mar Thoma Voluntary Evangelists Association. As President of the Committee to build homes for the homeless as the Navathy Project of Philipose Mar Chrysostom Mar Thoma Metropolitan he gave leadership to build 2059 houses.
Thirumeni's contributions in the ecumenical field are remarkable. Along with giving readership in WCC, CCA he served as President of World Vision India, Bangalore ECC, National Missionary Society, Bible Society (Kerala Auxiliary) and as secretary of Nilackal Ecumenical Trust. He worked as member of Christian Council of Asia from 1982 to 1986. He represented the Church in the General Assembly of the work Mission and Evangelism Conference held in 1989 at Santigo. He was elected to the WCC Central Committee and Executive Committee held in 1991 at Canberra. He attended as the representative of the Church in the 1998 Lambeth Conference. He led the delegation of the Church in the General Assembly of WCC held at Harare in 1998. He was elected a second time as member of WCC Central Committee and Executive Committee. He was Ecumenical Advisor of the Church's Delegation in the WCC General Assembly of 2006 held in Porto Alerge Brazil. Attending various Ecumenical religious study conferences in many parts of the world he has delivered lectures and presented papers.
Asha Nikethan (Mochana), Kottayam, Women's Hostel, Pathanamthitta, Asha Bhavan Pidavoor, Sinai Centre New York, Santhigiri Ashram, Alwaye are examples of Thirumeni's vision of future.
After the way back to Kerala after the Christmas Services in Muscat, Tirumeni suffered a cerebral haemorrhage in the flight and was admitted to a hospital in Kerala. Tirumeni was taken into eternal rest on December 27th, 2015 and the funeral service was held at December 29, 2015 at Tiruvalla.
Along with guiding the Dioceses, Thirumeni challenged the society to a new understanding by sharing visionary and theological insights with the help of outstanding oratory. He shines as Theologian, Ecumenical leader along with propagating and implementing new vision. Through out his life, he find answers to the complicated problems faced by the modern world with the help of divine guidance along with finding a new meaning for vision and theology with the help of extra ordinary insight.
Details
Parents
Niranam Mattackal Venparambil V K Oommen and Mariamma Oommen
Ordained as Deacon
05/07/1966
Ordained as Kassissa
07/09/1966
Ordained as Ramban
04/26/1980
Consecrated as Episcopa
05/01/1980
Installed as Suffragan Metropolitan
07/03/2004
Entered into Eternal Rest
27/12/2015