His Grace the Most Rev. Dr. Alexander Mar Thoma Valia Metropolitan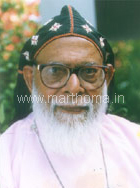 Born in 1913, he was the son of Rev. M C George, Kuriannor, a devout Minister of the Church, who passed away in 1923. After his graduation and teacher's training, he taught in the CMS High School, Kottayam for 12 years. He resigned from his teaching job and studied Theology at the United Theological College in Bangalore. He then secured S T M Degree from the Union Theological Seminary, New York and Ph.D on Bhagavad Gita from Kennedy School of Mission of the Hartford Seminary Foundation. He had the opportunity to travel extensively in European countries and after returning from the States, he was in charge of the Manganam Parish for a year. He worked as the first Principal of Mar Thoma College, Tiruvalla. In 1953, he was consecrated as Bishop as Alexander Mar Theophilus, together with Thomas Mar Athanasius and Philipose Mar Chrysostom.
A participant of the Assemblies of World Council of Churches representing the Mar Thoma Church at Evanston in 1954, Nairobi in 1975, and Vancouver in 1983, he worked as Missionary Bishop for many years, which involved extensive travel in India and abroad. He was President of the Bible Society of India for nearly 10 years and was also one of the Vice-Presidents of the United Bible Societies. He has also attended the Central Committee of the W.C.C on different occasions. He attended the Lambeth Conference in 1980 and the Anglican Consultative Council held at Nigeria in 1984. In 1973, he was designated Suffragan Metropolitan and as Metropolitan in the year 1976 after the demise of Juhanon Mar Thoma Metropolitan. Together with the responsibility as Metropolitan he was in charge of the Niranam-Maramon Diocese with 82 Parishes.
He used to spend several weeks in a year with the youth giving leadership discourses & training in camps and conferences and encouraging them into personal commitment towards Jesus Christ. He took special interest in the developmental activities and the social concerns of the church, its educational institutions, its missionary and evangelistic outreach, its witness and ecumenical concerns. In 1999, Alexander Marthoma was designated Alexander Marthoma Valia Metropolitan, as the first Marthoma Metropolitan to be made Valia Metropolitan. He passed away in 2000.