His Grace the Most Rev. Titus II Mar Thoma Metropolitan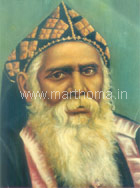 He was nephew of Titus I Metropolitan and was consecrated by him at Puthencavu St. Mary's Church in 1898, assisted by Metropolitan Mar Koorilos of Thozhiyoor. He worked with Titus I as his Suffragan Metropolitan, and became Metropolitan in 1910. He worked vigorously for the building up of the Church.
In those days when it was difficult to travel, he visited Churches in out-of-the-way locations and organized the Parishes on organizational lines. He took measures to ensure that the Parish officials maintained the Parish account up-to-date;and he fostered various programmes of the Parishes. The Mar Thoma Sevika Sangam was organized in 1919 and the Voluntary Evangelists Association in 1925. The Mar Thoma Theological Seminary for the training of the Clergy was established at Kottayam in 1926. Bishop Abraham Mar Thoma was consecrated as Suffragan Metropolitan in 1917 and the two Bishops worked together tirelessly for the growth of the Church. Titus II Mar Thoma passed away in 1943 after being Metropolitan for 33 years.