Rt. Rev. Geevarghese Mar Athanasius Suffragan Metropolitan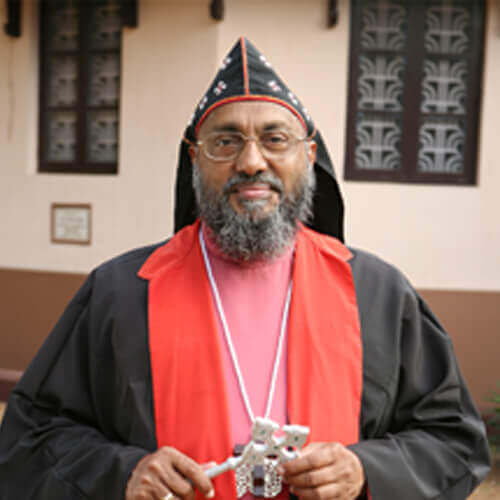 Born on 26th April 1944 as the son of Late Sri. C.I. Idicula and Late Smt. Achiyamma of Nedumpram Christos Mar Thoma Parish Chirayilkandathil C.I. George completed High School education from TMT High School Neerattupuram. After obtaining BSc Degree from Mar Thoma College, Thiruvalla he was called upon to serve the Church as a priest and got BD Degree from Leonard Theological College, Jabalpur in 1969.
He was ordained Semmash on 3rd May 1969 and Kassesa on 14th June 1969. He served thereafter Palakkad, Olavakkod, Karimba, Nelliyambathy, Attappadi, Kozhinjampara, Kuzhalmannam, Mumbai, Dadar, Toronto, Venmoney Sehion, Kottayam Jerusalem, Madras Chetpet, Edayaranmula, Laka Senthom, Kurichimuttom and various other Parishes illustriously. While in Canada he did higher studies in Wycliffe College, Toronto (1975-76). He was selected as Bishop while serving in Edayaranmula parish. He was consecrated as Ramban on 4th November 1989 at the Kottarakkara Mar Thoma Convention ground along with Rev. Dr. George Jacob (Geevarghese Mar Theodosius Episcopa and Rev. Euyakim I. Cheeran (Euyakim Mar Coorilos Episcopa) and as Episcopa with the name Geevarghese Mar Athanasius on 9th December 1989 at Thiruvalla SCS ground. He was assigned to be the head of Mumbai – Delhi Diocese. He served as head of Kottayam-Kochi Diocese from 1993 November to September 2001 and from 2001 October continues to head Ranni – Nilackal Diocese. In 2015 October 2nd, Tirumeni was installed as the Suffragan Metropolitan of the Church.
Thirumeni gave admirable leadership to collect funds and complete construction of Mathews Mar Athanasius Memorial Mar Thoma Centre at the Mumbai – Delhi Diocese Head Quarters. He laid the foundation stone of Mumbai Diocese Headquarters. Thirumeni took special care for the construction of Vazhakulam Greater Cochin Centre in Kottayam-Kochi Diocese. He was able to procure sixteen acres of land near Kamshet, Pune for the construction of Mumbai Western Zone Youth Centre. Special care was taken to uplift the believers in Highrange. The service of Evangelists was assured in all small parishes. He gave leadership to buy 15 acres of land in Karukachal for the extension of Kottayam Vaideeka Seminary. He bought land in Ponjassery and started an Industrial Training Institute there to ensure the employment opportunities of the tribal children in the Girideepthi tribal hostel of Thrikkakkara. He made the Munnar Parish to provide 60 cents of land for Kottayam-Kochi Diocese for a Retreat Centre there and got the plan ready and laid the foundation stone.
Thirumeni was able to get new buildings constructed for the Pathanamthitta Ladies Hostel owned by the Ranni-Nilackal Diocese Sevika Sanghom, Mekkozhur Deepam, Balika Bhavan and Kripa Bhavan. He gave leadership to start Pratheeksha Bhavan Old age Home at Mylapra Cheenkalthadam. Ten families without land or home were given homes by the Sharjah parish Silver Jubilee Project in Cooperation with Ranni-Nilackal Diocese.
Thirumeni was incharge of various organizations and projects of the Church. Chairman of Titus II Teachers Training College Governing Board and Vaidika Seminary, President of Suvisesha Sevika Sanghom, Sunday School Samajam, Vaidika Selection Committee, Sabha Directory Committee, Vaidika Conference Committee, Manager Perumbavoor Women's College, President National Missionary Society (1990-93) these are some of the posts held by Thirumeni. He was able to establish an MBA College in Perumbavoor namely Mar Thoma College of Management and Technology when he was President of Suvisesha Prasanga Sanghom. He gave leadership to renovate and reconstruct Kalliseri Kadavil Malika, the birth place of Mar Thoma Evangelistic Association. He was Chairman of Development Department, Sabha Tharaka, Service Commission, Cherukole ITC, Edakulam Teacher's Training College, Sabha Steering Committee and Manager of Thiruvalla Mar Thoma College and Kozhencherry St. Thomas College.
Thirumeni's discourses are the outcome of mature thought, depth of knowledge and wide reading. He is a good friend of Theological books and literary books and periodicals. All his speeches are thought provoking and appealing to all. As a refuge to everyone in distress and sorrow he has a special ability to win the heart of all. He is always able to pass on to his audience the depth of Biblical thoughts in a natural and poetical style. He is blessed with a rare ability to lead the audience to the shores of total submission lifting them on wings of fancy with the help of poetic description. His mature and creative leadership provides new avenues as for service as a shepherd.
Details
Parents
Nedumpram Chirayil Kandathil C I Idiculla and Achiyamma
Ordained as Deacon
03/05/1969
Ordained as Kassessa
14/06/1969
Ordained as Ramban
04/11/1989
Consecrated as Episcopa
09/12/1989
Installed as Suffragan Metropolitan
02/10/2015
Entered into Eternal Rest
18/04/2018