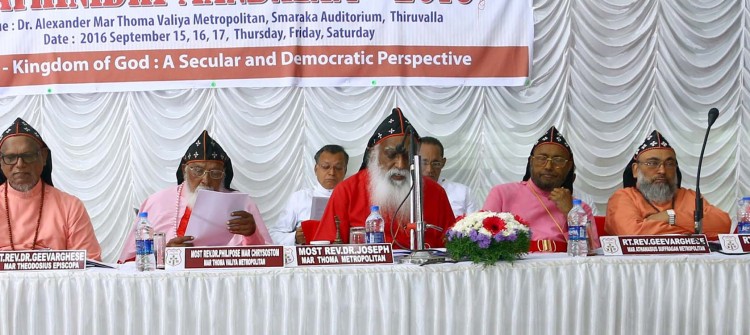 Mar Thoma Sabha Prathinidhi Mandalam commenced in Dr. Alexander Mar Thoma Valiya Metropolitan Smaraka Auditorium, Tiruvalla. The Most Rev. Dr. Joseph Mar Thoma Metropolitan presided over the meeting.
Most Rev. Dr. Philipose Mar Chrysostom Mar Thoma Valiya Metropolitan, Rt. Rev. Geevarghese Mar Athanasius Suffragan Metropolitan, Rt. Rev. Dr.  Geevarghese Mar Theodosius, Rt. Rev. Dr. Euyakim Mar Coorilos, Rt. Rev. Joseph Mar Barnabas, Rt. Rev. Thomas Mar Timotheos, Rt. Rev. Dr. Isaac Mar Philoxenos, Rt. Rev. Dr. Abraham Mar Paulos, Rt. Rev. Dr. Mathews Mar Makarios, Rt. Rev. Gregorios Mar Stephanos, and Rt. Rev. Thomas Mar Theethos Episcopas attended and led the worship service. Senior Vicar General Very Rev. Dr. Cherian Thomas led the devotional address.
Holy Communion was celebrated at St. Thomas Mar Thoma Church, Tiruvalla by Rt. Rev. Dr. Geevarghese Mar Theodosius Episcopa. The Achens who are retired from active service were honored by His Grace the Metropolitan. Sabha Secretary Rev. Oommen Philip presented the annual reports and accounts and Adv. Prakash P. Thomas, Lay Trustee & Treasurer presented the Supplementary Budget (2015-16) and Annual Budget (2016-17) of Rs. 108 crores in the meeting.
The following people who did exemplary service to Church and Society were honoured and awards were distributed by H. G. the Metropolitan.
1. Manavaseva Award : Rev. Dr. Mathew Daniel, Secretary, CSS, Thiruvalla.
2. Mar Thoma Karshaka Award : Mr. K. Abraham Daniel, Karamvelil, Keekozhur MTC.
3. Maliyekkal M.C. George Achen Memorial Endowment Prize : Rev. Dr. M.C. Thomas for the book Sancharathinte Kanal Vazhikal.
4. Rev. Mathew Thomas Vattakottal Memorial Endowment Prize : Rev. A.P. Jacob, Othera for the book, Janangal Enne Aar Ennu Parayunnu?
5. Mar Thoma Haritha Award : Santhigiri Ashram, Aluva.
6. Mar Thoma Merit Award : Dr. Abraham A., Illampallil, Anaprampal MTC.
7. Mar Thoma Merit Award : Ms. Nikhita Mary Mathew, Madras MTC
8. Cash Award for Dalit Students: Mr. Jeevan K. Babu St. Stephens MTC, Vellappara
Ms. Sherin K. Thomas, St. Thomas MTC, Mannady
Mr. Amal John Jacob, St. Lukes MTC Puthuparambu
9. Special award for Higher Secondary Full Marks (1200/1200) : Ms. Jyothis Susan George, Salem MTC, Vengal.
10. Pachappil Jeevante Kaiyoppu Prizes (Organic Farming Project) : Ranni – Nilackal Diocese Development Department, Adoor Diocese Development Department & SCS Higher Secondary School, Thiruvalla.
11. A special word of felicitation and memento was given to Mr. Jijo C. Cherian who designed the new website and two new Apps (Marthomian & Marthoma Priests)
3 books were published during the Mandalam Session.
1. The 37th Edition of Kristheeya Keerthanangal.
2. The reprint of Malankara Sabhayile Episcopacyum Marthoma Sabhayile Sthanarohana Susrooshakalum written by H.G. Dr. Juhanon Mar Thoma Metropolitan.
3. Apostolate of St. Thomas in India: Hopeful disclosures Amidst Clandestine Inconsistencies written by Rev. A.T. Philip.
The topic for study in this Mandalam Session is Kingdom of God: A Secular and Democratic Perspective.