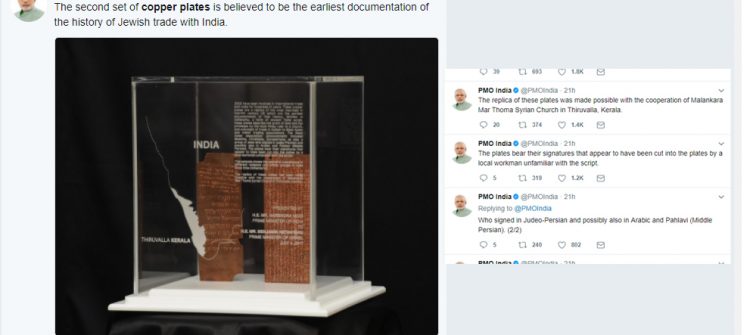 Malankara Mar Thoma Syrian Church is proud and honored as Sri. Narendra Modi, the Prime Minister of India presented the replica of the historical Copper Plates to Mr. Benjamin Netanyahu, the Prime Minister of Israel as a mark of remembrance and recollection of the historical relationship between two nations.
These Copper Plates known as Tharissapalli Chepedukal were issued by the Ruler of Venadu (Quilon), Ayyanadikal Thiruvadikal, to the Saint Thomas Christians on the Malabar Coast in the 5th regnal year of the Chera Ruler Sthanu Ravi Varma. The inscription describes the gift of a plot of land to the Syrian Church at Tangasseri near Quilon (now known as Kollam), along with several rights and privileges to the Syrian Christians led by Mar Sapir Iso. It clearly shows the wide acceptance given to the early Christians by the rulers of the land.
The Tharisappalli copper plates are one of the important historical inscriptions from Kerala, the date of which has been accurately determined. The grant was made in the presence of important officers of the state and the representatives of trade corporations or merchant guilds. It also testifies to the enlightened policy of religious toleration followed by the rulers of ancient Kerala. The age of these copper plates are calculated to the 9th  Century AD (ca. 844-845). The languages in the plates were written in Tamil-Malayalam, Arabic, Hebrew and Phalavi.
Two Copper plates which forms part of Tharissapalli Chepedukal are considered as precious relics, which indicate the historical lineage of Malankara Mar Thoma Syrian Church among St. Thomas Christians, are kept under the safe custody of the Church.