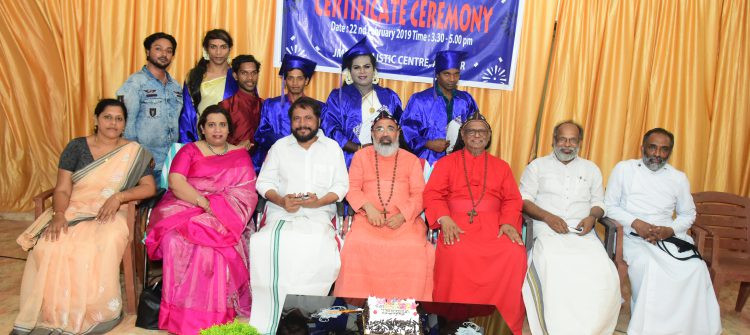 Two residential training programs on Tailoring for transgenders were conducted at JMMA Memorial Holistic Center Centre, Ayroor. Pathanamthitta.
The first Training Programe was held on Basic Tailoring. Students were trained on cutting & design of various garments.
In the basic course, the students learnt about taking measurements of a specific garment and ways to measure a person. Guidance on Instructions and calculations for drafting and then Drafting of the pattern on the paper and then on fabric and the method to cut and stitch the fabric, both with and without lining was taught.
The second programme was held on the  Advanced Tailoring methods, Embroidery and Pattern making.
This course was designed to teach the various nuances of pattern making and fashion dress designing in a comprehensive manner. The patterns cater to both standard measurements & personal. By learning different types of patterns, the student were able to design their own dress according to the latest trends.
The advanced course was taught to the transgenders to be more independent and to enable them to start their own business by establishing a tailoring unit. Six transgenders were in attendance for both the trainings.
The certificate ceremony to award the certificates for all the students who completed the training programs on tailoring was held on 22nd February 2019. Rt. Rev. Dr. Geevarghese Mar Theodosius- President, Mar Thoma Navodaya Movement Society presided over the event. Rt. Rev. Dr Thomas Mar Theethos Bishop of Calicut – Kunnamkulam Diocese was also present at the certificate ceremony. Mr Raju Abraham, MLA was the Key note speaker for the Certificate Ceremony. The training program was organized by Mrs Preethi Kuruvila.
Mar Thoma Navodaya Movement Society is thankful to Rev. V.S Skariah and the members of the JMMA Holistic Center for hosting the six trainees at the center for the 15 day training program.
Rt. Rev. Dr. Geevarghese Mar Theodosius presented the certificates to the trainees after the completion of the course. Officials from the Social Justice department, Pathanamthitta were also present at the event, and made arrangements for the distribution of sewing machines to the trainees.