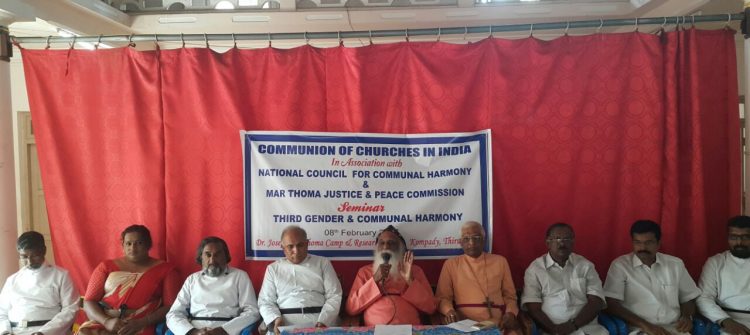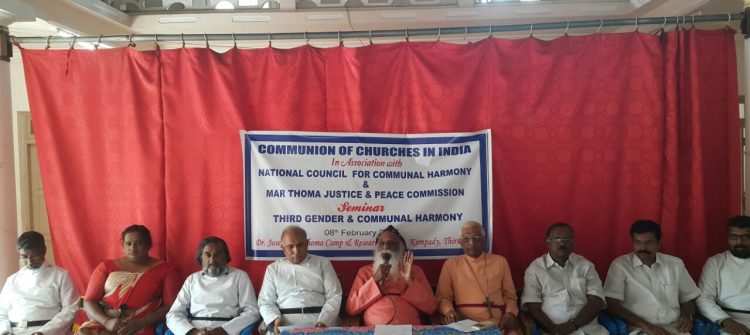 His Grace the Most Rev. Dr. Joseph Mar Thoma Metropolitan exhorted that transgenders are a part of God's creation and cannot be excluded from our society.  Metropolitan was inaugurating a seminar arranged by the Communion of Churches in India in association with National Council for Communal Harmony and Mar Thoma Justice and Peace Commission under the theme Third Gender and Communal Harmony at AMM Bible Institute Kompady.
The Bible gave emphasis to the baptism of an eunuch which led to the formation of the Church in Ethiopia. Honoring the diversities of the creation is an integral part of Christian living Metropolitan added . Metropolitan said the tendency to keep the transgender people away from the mainstream by misinterpreting the Gospel and the prophesies should be rejected.
CSI Bishop Thomas Samuel, Rev. Oommen Philip, Sabha Secretary, Adv. Prakash P.Thomas,Trustee of Mar Thoma Church & CCI, Dr. Simon John, Registrar CSI Madhya Kerala Diocese, Rev. Danes B. Oommen, Rev. Dr. Easow Mathew gave felicitations to the meeting.
Rev. Lal Cherian, Clergy Trustee was the moderator and Rev. Philip George, Asst Director, Christian Agency for Rural Development (CARD), Sreekutty, President Kerala Laingika Nyoonapaksha Federation State president Vineeth Mathew Presented  papers.