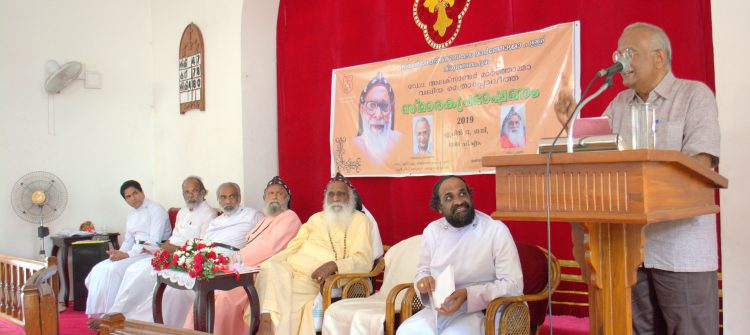 Former Kerala State Government Chief Secretary, Shri. M.S. Vijayanand IAS emphasized that an eco friendly development policy is the need of the hour. People from all walks of life should join together for common causes and social leaders should venture to converge differences of opinions through dialogues. The real challenge the human society of 21st century facing is the lack of impartial intermediaries.
The learned bureaucrat was delivering the 18th Lecture in memorial of Late Dr. Alexander Mar Thoma Valiya Metropolitan organized by Mar Thoma Syrian Church at Jerusalem Mar Thoma Syrian Church, Nanthencode. The theme of the lecture was "Navodhanavum Navakeralavum" (Renaissance and New Kerala). The vision of the State Government to uphold the values of Renaissance and post-deluge rebuilding of Kerala should be weighed on praxis of sustainable eco-friendly development.
Dr. Joseph Mar Thoma Metropolitan chaired the meeting and reiterated that Dr. Alexander Mar Thoma was a visionary who has his roots in Christ-Centered Development. Rt. Rev. Joseph Mar Barnabas Episcopa, the Bishop of the Thiruvananthapuram – Kollam Diocese and Rev. Thomas C. Alexander, Sabha Clergy Trustee led the prayers.
Lay Trustee, Shri P.P. Achankunju presented the memento and Sabha Secretary, Rev. K.G. Joseph and Rev. Mathew K. Jackson, Vicar of Nanthancode Jerusalem Mar Thoma Church extended welcome and vote of thanks to the gathering.
The choirs of Nanthancode Jerusalem Mar Thoma Church and Pattoor Immanuel Mar Thoma Church rendered musical euphonies.