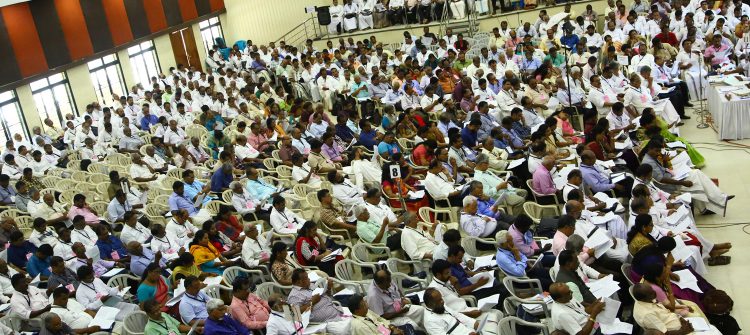 The Annual Pratinidhi Mandalam 2018-2019 of the Malankara Mar Thoma Syrian Church began at Dr. Alexander Mar Thoma Smaraka Auditorium, Tiruvalla on 13th September 2019 with the Most Rev. Dr. Joseph Mar Thoma Metropolitan on the chair. The meeting began with the opening prayer by Rt. Rev. Dr. Euyakim Mar Coorilos Episcopa.
Sabha Secretary welcomed all the members to the Annual General Body of the Church. The Mandalam Members expressed its deepest condolences to the bereavement of the following members: Most Rev. Dr. Geevarghese Mar Timotheos Metropolitan(Malankara Catholic Church), Rev. George Alexander, Rev. Aby Thambi Ninan, Rev. T. C. Mammen, Rev. Dr. Geevarghese Mathew, Rev. T.C. Thomas, Rev. T.C.John, Mr, Anu Vaidiyan, Mandalam Member, Mr, P.S.Abraham, Mandalam Member, Mr. P.T. Thomas, Mandalam Member.
In the presidential address Metropolitan remembered the grace showered upon the church during the past years.Metropolitan exhorted that the Church should listen to the will of God.
In 14-09-019, Holy Communion was celebrated by Rt.Rev. Joseph Mar Barnabas Episcopa at the Tiruvalla St. Thomas Mar Thoma Church. After the Communion, the achens who retired during the report year was honoured. Also Special Awards was also presented.
The Annual Report and Annual Accounts for the year 2018-2019 was presented by the Sabha Secretary and was confirmed by the Mandalam.The Budget for the year 2019-2020 was presented by the Lay Trustee and Treasurer. The Abstract is as follows:
Opening Balance: 101,68,57,985.25
Receipts: 44,66,61,500.00
Total Receipts: 146,35,19,485.25
Payments: 51,20,90,000.00
Closing Balance: 95,14,29,485.25
Rev. K. E. Geevarghese, Rev. C. V. Simon, Adv. Oommen Thomas served as the recording secretaries. 1201 mandalam members attended the meeting. Sabha Secretary delivered the vote of thanks.
Rt. Rev. Dr. Geevarghese Mar Theodosius, Rt. Rev. Dr. Euyakim Mar Coorilos, Rt.Rev. Joseph Mar Barnabas, Rt. Rev. Thomas Mar Timotheos, Rt. Rev. Dr. Isaac Mar Philoxenos, Rt. Rev. Dr. Abraham Mar Paulos, Rt. Rev. Dr. Mathews Mar Makarios, Rt. Rev. Gregorios Mar Stephanos and Rt. Rev. Dr. Thomas Mar Theethos Episcopas, Sabha Secretary- Rev. K.G. Joseph, Clergy Trustee: Rev. Thomas C. Alexander, Lay Trustee and Treasurer Mr. P.P.Achankunju were present.