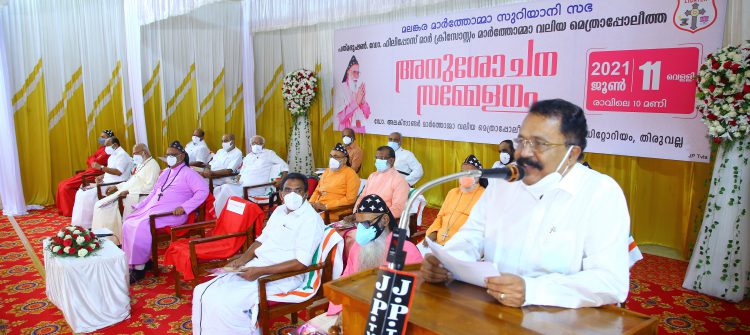 The humanitarian works of Chrysotom Tirumeni transcended all the borders of the society remarked H. E. Sri P. S. Sreedharan Pillai, Hon. Governor of Mizoram during the inauguration of the Condolence Meeting to remember the life and witness of Most Rev Dr. Philipose Mar Chrysostom Mar Thoma Valiya Metropolitan held at 10 AM on June 11, 2021 at Dr. Alexander Mar Thoma Smaraka Auditorium, Tiruvalla.
The meeting was presided over by His Grace the Most Rev. Dr. Theodosius Mar Thoma Metropolitan. Metropolitan recalled the love of Chrysostom Tirumeni to the less privileged in the Church and Society. The keynote address was delivered by H.B. Cardinal Mar George Alenchery, Syro Malabar Church. Tirumeni remarked that the Chrysostom Tirumeni was a gift by God Almighty to the Church and to the Whole World.
Smt. Veena George, Minister for Health and Family Welfare (Via Online), Sri. V. D. Satheeshan, Leader of Opposition, Sri. Anto Antony MP, Prof P. J. Kurian (Former Deputy Chairman, Rajya Sabha), Adv. Mathew T. Thomas MLA, Mr. Thomas K. Thomas MLA, H.G. Dr. Yuhanon Mar Chrysostomos Metropolitan (Malankara Orthodox Church), H.G. Dr. Geevarghese Mar Coorilos Metropolitan (Malankara Jacobite Syrian Church), Bishop Dr. Malayil Sabhu Koshy Cherian (CSI- Madhya Kerala Diocese) delivered Condolence Messages.
Rt. Rev. Dr. Eyuakim Mar Coorilos Episcopa and Rt. Rev. Thomas Mar Timotheos Episcopa led the prayers. Rt Rev. Joseph Mar Barnabas (Via Online), Rt Rev. Dr. Abraham Mar Paulos (Via Online), Rt. Rev. Dr. Mathews Mar Makarios(Via Online), Rt Rev. Dr. Gregorios Mar Stephanos, and Rt. Rev. Dr. Thomas Mar Theethos (Via Online) Episcopas participated in the meeting.
Rev. K. G. Joseph, Sabha Secretary welcomed the gathering, Rev. Thomas C. Alexander Clergy Trustee moved the Condolence Resolution and Mr. P. P. Achankunju, Lay Trustee and Treasurer gave the vote of thanks.
Amidst lockdown, the meeting was held with strict restrictions following Covid protocol. Around 2000 people joined the programme online.