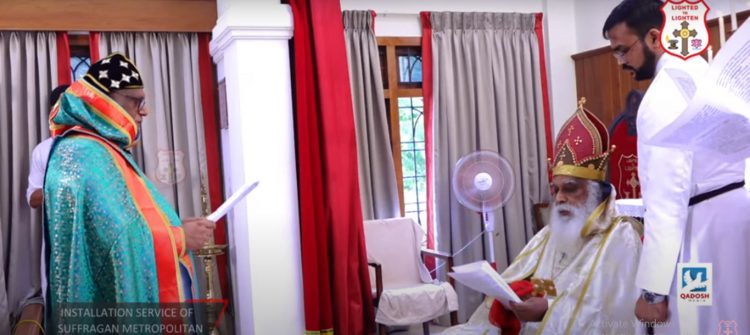 Rt. Rev. Dr. Geevarghese Mar Theodosius was installed as the Suffragan Metropolitan of the Church during the Holy Communion service at 9AM on Sunday, 12th July 2020 at the Poolatheen Chapel by the Most Rev. Dr. Joseph Mar Thoma Metropolitan. The service began with the Holy Communion service led by the Rt. Rev. Dr. Geevarghese Mar Theodosius in the presence of other Bishops of the Church, Rt. Rev. Dr. Euyakim Mar Coorilos, Rt. Rev. Joseph Mar Barnabas, Rt. Rev. Thomas Mar Timotheos, Rt. Rev. Dr. Abraham Mar Paulos, Rt. Rev. Dr. Thomas Mar Theethos. Rev. K. G. Joseph, Sabha Secretary assisted in the service.
During the sermon, His Grace the Metropolitan, explained the significance of "Suffragan Metropolitan" which is unique to the Mar Thoma Church. As 12th July was the day of the Verdict of Royal Court in 1889, Metropolitan recollected the past where the Church had to face many trials but received the abundant grace of Almighty that enabled the Church to move forward. Metropolitan also remembered the people the God had equipped to lead the Church.
During the Installation service (Click here to download the order of Worship) , the Metropolitan and the whole congregation prayed for the mercy of God to be showered upon the Suffragan Metropolitan and the Installation service ended by the exhortation of the Metropolitan and the Holy Communion service continued.
After the service, Rt. Rev. Dr. Geevarghese Mar Theodosius Suffragan Metropolitan gave Kaimuth to Clergy Trustee – Rev. Thomas C. Alexander and Lay Trustee & Treasurer – Shri. P. P. Achankunju.
Due to COVID-19 regulations, the service was restricted to a limited number of persons and the whole service was webcasted via the website and the Social Media managed by the Church through which around 55,000 people joined the service worldwide.
.