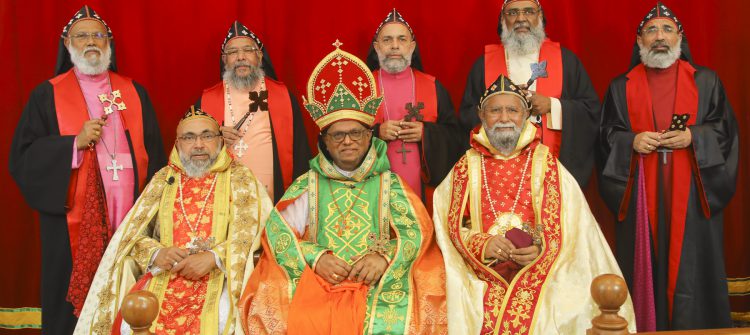 18th July 2021 was a remarkable day in the history of the Mar Thoma Church when two Bishops of the Church, Rt. Rev. Dr. Euyakim Mar Coorilos Episcopa and Rt Rev Joseph Mar Barnabas Episcopa were installed as the Suffragan Metropolitans of the Church. Also, Rev George Mathew was also installed as the Vicar General of the Church.
The Installation Service began at 9 AM with the Holy Communion Service at Poolatheen led by the Most Rev Dr. Theodosius Mar Thoma Metropolitan. The sermon was delivered by Rt. Rev. Thomas Mar Timotheos Episcopa. Tirumeni explained the history of the Suffragan Metropolitan in the Church. Tirumeni, in the meditation, explained God's expectation for us to be the Salt and Light to the World. Sabha Secretary read the Circular Kalpana regarding the installation of Suffragan Metropolitans and the appointment of Vicar General.
During the Installation Service led by the Metropolitan, the two Bishops were Installed as the Suffragan Metropolitans and Rev George Mathew was installed as the Vicar General.
Rt. Rev. Dr. Abraham Mar Paulos Episcopa, Rt. Rev. Dr. Mathews Mar Makarios Episcopa, Rt. Rev. Dr. Gregorios Mar Stephanos Episcopa and Rt. Rev. Dr. Thomas Mar Theethos Episcopa were present during the service. Rt. Rev. Dr. Issac Mar Philoxenos Episcopa, being abroad, joined the service online. Sabha Secretary. Rev. K. G. Joseph, Clergy Trustee Rev. Thomas C. Alexander, Lay Trustee and Treasurer Mr. P. P. Achankunju conveyed the greetings of the Church.
HG.Gabriel Mor Gregorios Metropolitan (Malankara Orthodox Church), HG Zachariah Mor Aprem Metropolitan (Malankara Orthodox Church), Bishop. Mathews Mar Silvanios (Believers Church),  Sri. Oommen Chandy (former Chief Minister of Kerala), Sri. Tiruvanchoor Radhakrishnan (former Minister), Prof. P. J. Kurien ( Former Deputy Speaker -Rajya Sabha)  Sri Raju Abraham (former MLA), Sri. Joseph M. Puthussery (former MLA) gave felicitations.