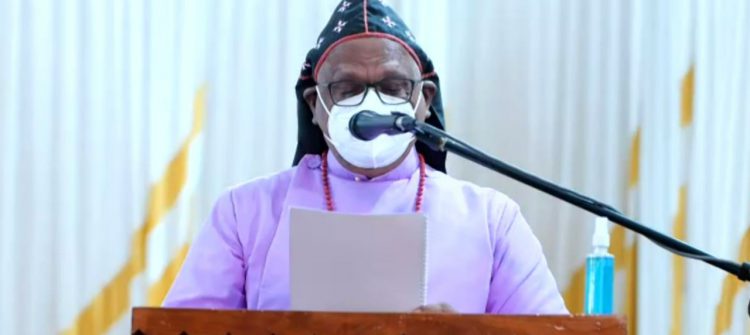 The Sabha Prathinidhi Mandalam of Malankara Mar Thoma Syrian Church was held from 13-15 October 2021 through Zoom Webinar. Due to the Covid-19 pandemic, The Metropolitan, Bishops, Sabha Council Members and Legal Affairs Committee joined the meeting from Dr. Alexander Mar Thoma Smaraka Auditorium, Tiruvalla and all the members joined the meeting through unique links sent to them through email. The registration to the meeting was open from 12 AM on 12-10-2021 to 10 AM on 14-10-2021.
The meeting began at 4PM (IST) on 13-10-2021 with the worship led by His Grace Dr. Theodosius Mar Thoma Metropolitan and other Bishops. Mrs . Binu Mary Babu, Sabha Council Member read the lesson (Exo. 3:14) and Rev. Dr. Prakash K. George (Former Principal of Mar Thoma Theological Seminary, Kottayam) led the devotion followed by the prayer by Rev. Thomas C. Alexander, Clergy Trustee.
Thereafter His Grace the Metropolitan made an announcement based on Constitution Clause 390(C). The Mandalam accepted the announcement. Rev. K. G. Joseph, Sabha Secretary reported the quorum. Out of 1451 members 1308 persons registered (90.14%) till 10 AM on 13-10-2021 and the Metropolitan declared that the meeting is officially constituted. Rev. Mathew P. Thomas, Rev. K. E. Geevarghese and Adv. Oommen Thomas were appointed as the Recording Secretaries of the Meeting. Followed by that all the Members took the Mandalam Oath as per Contitution clause 124. The Sabha Secretary welcomed the Members to the Meeting. The Meeting expressed its condolence on the passing away of Padmabhushan Most Rev. Dr. Philipose Mar Chrysostom Mar Thoma Metropolitan, Most Rev. Dr. Joseph Mar Thoma Metropolitan, Moran Mor Baselious Paulose II Catholicose (Malankara Orthodox Church), Rt. Rev. Dr. Jacob Mar Barnabas Metropolitan (Malankara Catholic Church), Most Rev. Dr. D. K. Mohanty (CNI), Most Rev. P. G. Kuruvilla (CSI- North Kerala Diocese) and Sabha Council Members, Mandalam Members, Clergy and Sisters.
Dr. Theodosius Mar Thoma Metropolitan gave the Presidential address. In the speech, Metropolitan exhorted the members to be witnesses of Christ in the local Spaces, understanding and responding to the challenges of the times.
The Sabha Secretary presented the Annual Reports and accounts for the years 2019-2020 & 2020-2021 the Annual Budget for the year 2021-2022 was passed by the Prathinidhi Mandalam after discussion.
The Holy Communion was celebrated at Thiruvalla St. Thomas Mar Thoma Church on 15.10.2021. and following it the Clergy who have retired from the Active Service in Sabha were honoured by the Sabha Prathinidhi Mandalam. Also the following awards were distributed:
മാര്‍ത്തോമ്മാ മാനവസേവ അവാര്‍ഡ് 2020
ക്രിസ്തീയ മൂല്യങ്ങളില്‍ അധിഷ്ഠിതമായി വിവിധ മേഖലകളില്‍ പ്രാഗത്ഭ്യം തെളിയിക്കുകയും പ്രശസ്ത സേവനം അനുഷ്ഠിക്കുകയും ചെയ്തിട്ടുള്ള മാര്‍ത്തോമ്മാ സഭാംഗങ്ങള്‍ക്കു നല്‍കുന്ന പുരസ്ക്കാരമാണ് മാര്‍ത്തോമ്മാ മാനവസേവ അവാര്‍ഡ്. ആതുര ശുശ്രൂഷ പ്രവര്‍ത്തനങ്ങളും കോവിഡ് – 19 കാലയളവിലെ സേവന പ്രവര്‍ത്തനങ്ങളും എന്ന മേഖലയില്‍ മികച്ച പ്രവര്‍ത്തനം കാഴ്ചവച്ച, അഞ്ചേരി ക്രിസ്തോസ് മാര്‍ത്തോമ്മാ ഇടവകാംഗമായ ഡോ. എന്‍. റ്റി. ഏബ്രഹാമിന് ഈ വര്‍ഷത്തെ മാര്‍ത്തോമ്മാ മാനവസേവ അവാര്‍ഡ് അഭി. മെത്രാപ്പോലീത്താ തിരുമേനി നല്കി ആദരിച്ചു.
മാര്‍ത്തോമ്മാ കര്‍ഷക അവാര്‍ഡ് 2020
മാര്‍ത്തോമ്മാ സഭാംഗമായ ഏറ്റവും മികച്ച ചെറുകിട കര്‍ഷകയ്ക്കുള്ള അവാര്‍ഡ് കോതമംഗലം സെന്‍റ് തോമസ് മാര്‍ത്തോമ്മാ ഇടവകാംഗം ശ്രീമതി. മിനി ചെറിയാന് അഭി. മെത്രാപ്പോലീത്താ തിരുമേനി നല്കി ആദരിച്ചു.
മികച്ച ഗ്രന്ഥരചയിതാക്കളായ വൈദികര്‍ക്കുള്ള അവാര്‍ഡുകള്‍
(1)മാളിയേക്കല്‍ എം.സി.ജോര്‍ജ് അച്ചന്‍ മെമ്മോറിയല്‍ എന്‍ഡോവ്മെന്‍റ് പ്രൈസ് –
റവ. അരുണ്‍ തോമസ്. എ. യുടെ Healing Discourses in the Gospel of Mark: A Socio – Political Reading എന്ന ഗ്രന്ഥത്തിന് ലഭിച്ചു.
(2) റവ. മാത്യു തോമസ് വട്ടക്കോട്ടാല്‍ മെമ്മോറിയല്‍ എന്‍ഡോവ്മെന്‍റ് പ്രൈസ് –
റവ. ഡോ. ഏബ്രഹാം ഫിലിപ്പി ന്റെന ഏവന്‍ഗേലിയോന്‍ പ്രസംഗങ്ങള്‍ എന്ന ഗ്രന്ഥത്തിന് ലഭിച്ചു.
(3) മാര്‍ത്തോമ്മാ ഹരിത അവാര്‍ഡ് – പരിസ്ഥിതി അവബോധം സഭയുടെ പ്രേഷിതവൃത്തിയുടെ ഭാഗമായി പരിഗണിക്കുന്നതിനും സഭാംഗങ്ങളില്‍ സാമൂഹിക പ്രതിബദ്ധത വളര്‍ത്തിയെടുക്കുന്നതിനും വേണ്ടി ഏര്‍പ്പെടുത്തിയിരിക്കുന്ന അവാര്‍ഡ് – Institution Category
Mar Thoma Central School, Cherunniyoor, Varkala അര്ഹമായി.
(4) Cemetery Up-keep Award – ഇടവകകളിലെ സെമിത്തേരികള്‍ ഏറ്റവും മികച്ച രീതിയില്‍ സംരക്ഷിക്കുന്നതിനുള്ള അവാര്‍ഡ്
ഒന്നാം സ്ഥാനം: സെഹിയോന്‍ മാര്‍ത്തോമ്മ ചര്‍ച്ച്, പുല്ലാട്
രണ്ടാം സ്ഥാനം: ബഥേല്‍ മാര്‍ത്തോമ്മ ചര്‍ച്ച്, തുമ്പമണ്‍
(5) മാര്‍ത്തോമ്മാ മെറിറ്റ് അവാര്‍ഡ് പി.എച്ച്.ഡി ബിരുദം നേടിയ അദ്ധ്യാപകര്‍:
1.Dr. Arun Vinod, Thiruvalla St. Thomas
2.Dr. Sheena Philip, Elippikulam St. Thomas
3.Dr. Tom Thomas, Vellara Ebenezer MTC
4.Dr. Chacko Preno Koshy, Vadaserikara St. Thomas
5.Dr. Anju Sosan George, Kizhakkenmuthoor St. Pauls MTC
6.Dr. Nisha Mathew, Pattamala MTC
(6) റാങ്കു നേടിയ ബിരുദ – ബിരുദാനന്തര വിദ്യാര്‍ത്ഥികള്‍ MAR THOMA MERIT AWARD FOR STUDENTS WHO SECURED RANK
1.Dr. Meera Baby John, Pattamala MTC
2.Ms. Anju Susan Anish, Poovanpara Salem MTC
3.Ms. Jemimah A. Johnson, Kumbanad Salem MTC
(7) എസ്.എസ്. എല്‍.സി പരീക്ഷയില്‍ ഉന്നതവിജയം – സുവിശേഷ പ്രവര്‍ത്തനത്തിന്‍റെ ഫലമായി രൂപീകരിക്കപ്പെട്ട മാര്‍ത്തോമ്മാ ഇടവകകളില്‍ നിന്നും 2020 ലെ എസ്. എസ്. എല്‍. സി. പരീക്ഷയില്‍ ഉന്നത വിജയം കരസ്ഥമാക്കിയ പ്രസ്തുത വിഭാഗത്തിലെ വിദ്യാര്‍ത്ഥികള്‍ക്കുള്ള ക്യാഷ് അവാര്‍ഡ്.
Full A Plus
1.Ms. Emeema Thampi K., Vengoor, Jerusalem
2.Ms. Jasmine John, Kumbanad St. Thomas
3.Ms. Sneha Abraham, Thumpamon St. Thomas
Later the counting of Ballots for the election for the Office Bearers were done and Rev. C. V. Symon, Rev. Monsi. K. Philip and Mr. Rajan Jacob were elected as Sabha Secretary, Clergy Trustee and Lay Trustee & Treasurer respectively.
The following members were elected to the Vaideeka Selection Committee:
Rev. Dr. Easow Mathew, Rev. Dr. A. John Philip, Rev. Dr. Sham P. Thomas, Rev. Abey T. Mammen, Rev. Thomas Koshy P., Dr. Jesudas Athyal, Prof . C. Mammachen, Mr. C. V. Varghese, Adv. Prasad George, Mr. Jossy Kurien, Adv. Jose K. Joy, Mr. P. T. Shaji, Mr. Alex Cherian.
Sabha Secretary reported the Sabha Council Members for 2020-2023:
Rev. Varghese Mathew (Kalyan)
Dr. John Mathew (Roy)
Dr. Mary Abraham Mathews
Rev. Mathew K. Muthalaly
Capt. J.M. Thomas
Ms. Geemol Varghese
Rev. Prasad Mathew
Mrs. Latha Mary C. Mathew
Mr. Shajan M. George
Rev. S. George
Mr. Baby Mathew T.
Mrs. Anila Sunil
Rev. Johnson Philip
Mr. K.G. Abraham
Mr. P.E. Binu
Ms. Mariamma Solomon
Rev. Dr. Renjan John
Mr. Abraham Thomas
Mr. Jiju Oommen
Ms. Jessy Jose
Rev. P.J. Varghese
Dr. Selin Abraham
Mr. Joseph Varghese
Dr. Mathews George Chunakkara
Rev. George Thomas (Niranam)
Mrs. Reji Thomas
Mr. Abin Thomas
Mr. Sam C. Koshy
Mr. Thomas Mathew (Benny Puthenparampil)
Rev. Bobby Philip
Mr. Aby Varghese John
Dr. Anna Mathew
Mr. Eapen Mathew
Rev. Dr. T.T. Zacharia
Mr. Thomas Alexander (Sam Chempakathil)
Mr. Modi P. George
Mrs. Joyamma Koshy
Rev. Shaji Thomas Nadukkeparampil
Adv. Anzil Zacharia Komattu
Prof. Jolly Anne Abraham
Mr. M.A. Mathai
Rev. Binu J. Varghese
Mrs. Checha John
Mr. John Titus
Mr. Sunny Abraham
Mr. Manoj Mathew M.
Mr. George Varghese
The Metropolitan congratulated the Office Bearers for their unique contibutions in the last four years. The Minutes were and and passed and the meeting came to an end with the prayer of Rt. Rev. Thomas Mar Timotheos Episcopa and the Benediction of H. G. the Metropolitan.