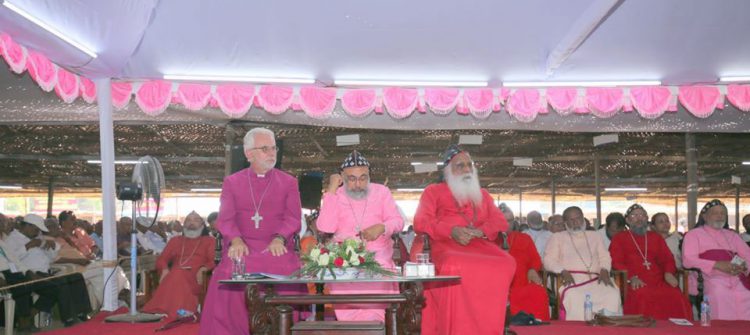 " The Human face of God should be seen on others" exhorted His Grace the Most Rev. Dr. Joseph Mar Thoma Metropolitan in the inaugural address of the Opening Session  of the Maramon Convention. The people of God are call not to be influenced by the circumstances but to involve, influence and reform the circumstances.  Our attitude to eliminate the 'voice of others'  should be avoided and need to respect the differences.  Rt. Rev. Dr. Euyakim Mar Coorilos Episcopa presided over the meeting. Rev. K.G.Joseph, Sabha Secretary led the opening  prayer and Rev. George Abraham, General Secretary o Mar Thoma Evangelistic Association, welcomed the gathering to the convention.
Arch Bishop Most.Rev.Kay Maree Goldsworthy,  Bishop Dino Gabriel-Anglican Bishop Of Natal, Rev.Dr.John Samuel Ponnuswamy and Rev.Dr.Monodeep Daniel are the chief speakers of this convention.
ARCH BISHOP MOST.REV.KAY MAREE GOLDSWORTHY , ARCHBISHOP OF PERTH (AUSTRALIA)
Arch Bishop Kay Maree Goldsworthy is a native of Melbourne by birth and was ordained as the first woman priest of Australia by Arch Bishop Peter Carnley in 1992. In 2008 May 22nd  Rev. Kay was appointed as Assistant Bishop by Arch Bishop Roger Herft and became the first woman ordained to the episcopate in Australia.
In December 2014 Bishop Kay was elected as the Diocesan Bishop of Gippsland and was installed on March 2015. During Queen's Birthday Honours List, in 2007, Bishop Kay was appointed as an Officer of the Order of Australia (AO) for "distinguished service to religion through the Anglican church of Australia, as a pioneer and role model for women, to church administration, and to pastoral care and equality"
On 21st August 2017 Bishop Kay was elected as the 8th Archbishop of Perth and Metropolitan of the Province of Western Australia and installed as the first female Arch Bishop in the Anglican Church of  Australia on 10th February 2018.
BISHOP DINO GABRIEL-ANGLICAN BISHOP OF NATAL
Bishop Dino Gabriel is an Italian born Anglican Bishop of Natal in South Africa. A former Roman Catholic Priest, he came to South Africa as a missionary in 1987 and ordained as an Anglican priest in 1992 in the Diocese of Highveld. He was a dean of Zululand from 1999 to 2005 and was consecrated as the Bishop of Zululand in 2005 and later transferred to Natal on 22nd Nov 2015 consequent to his election on 16th July 2015.
REV. DR. JOHN SAMUEL PONNUSWAMY
Rev.Dr.John Samuel is an ordained priest of Church of South India and served in Diocese of North Kerala from 1981 to 1984, in Diocese of Birmingham, UK  in 1996, United Reformed Church, UK from 1996-1999 and Rusting ton Methodist Church, UK  during 2006 to 2007. He was a Tutor in  Old Testament at Northern College, Manchester (UK) during 1996-1999. He is the principal of Gurukul Lutheran Theological & research Institute, Chennai. He a scholar and  has published many books and presented many papers in different  subjects.
REV.DR.MONODEEP DANIEL
Rev.Dr.Monodeep Daniel is an ordained presbyter in the church of North India Diocese of Delhi. He is the Head of the Delhi Brotherhood which is a religious community in CNI and presently he is the Chaplain of and Dean of St.Stephen's College, Delhi University. He completed his Ph.D from Amsterdam. His research was titled as "Religions in India: Dr.Ambedkar's Vision". He has authored several Book of Dr. Ambedkar and has written commentary on several books of the Bible from Dalit perspective. These series are well-known by the name "Dalit Bible Commentary" published by the 'Centre for Dalit Subaltern Studies'. Presently he is writing a comprehensive book titled "The History of CNI".
In the opening message, BISHOP DINO GABRIEL, pointed out that the church must  not remain passive but be disturbed in the midst of the exploitations in the society.
Rt. Rev. Dr. Geevarghese Mar Theodosius, Rt. Rev. Joseph Mar Barnabas, Rt. Rev. Thomas Mar Timotheos, Rt. Rev.Dr. Isaac Mar Philoxenos, Rt. Rev. Dr. Abraham Mar Paulos, Rt. Rev. Mathews Mar Makarios, Rt. Rev. Gregorios Mar Stephanos, Rt. Rev. Dr. Thomas Mar Theethos Episcopa, and the Bishops of the sister churches attended the meeting .
Every morning a Bible study was conducted for ladies and gents which was an occasion to reflect from the Word of God.
The songs of the convention is  lead by the 101 member choir lead by Rev. Ashish Thomas George, Director of Department of Sacred Music and Communications.
The stalls of various Dioceses, projects, Institutions of the Church were functioned in the Maramon Sandbed.