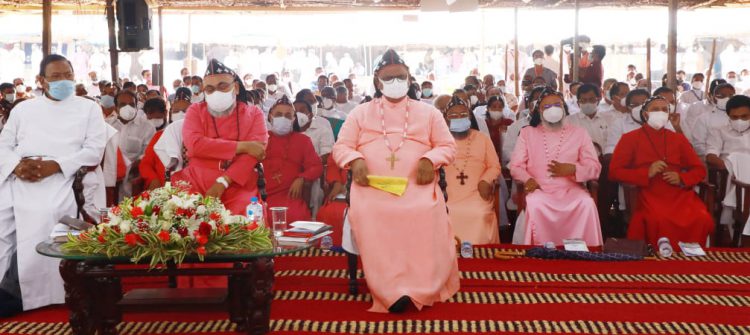 The 127th Maramon Convention begins at the Sandbed of Maramon with the exhortation to be witness to the World by Dr. Theodosius Mar Thoma Metropolitan.
The singing session of the meeting started with the prayer by Very Rev. George Mathew, Vicar General. The singing session is led by the Department of Sacred Music & Communication.
The inaugural meeting began with the prayer by Rev. C. V. Symon, Sabha Secretary, which was presided by Rt. Rev. Dr. Euyakim Mar Coorilos Suffragan Metropolitan, President of Mar Thoma Evangelistic Association. Tirumeni, in the Presidential address, emphasized that Maramon Convention is God's dwelling place for us to get renewed and transformed. Rev. Jiji Mathews, General Secretary MTEA welcomed the gathering. In the inaugural address, His Grace Dr. Theodosius Mar Thoma Metropolitan, desired that the sermons from this sandbed may challenge us to be active participants in God's Mission.
Rev John Samuel Ponnuswamy, Principal of Gurukul Lutheran Theological
College and Research Institute, Chennai delivered the sermon which expressed the importance of getting reformed by the Word of God.
The meeting expressed its condolence to the demise of Padmabhushan Dr.Philipose Mar Chrysostom Mar Thoma Valiya Metropolitan.
Rt.Rev. Joseph Mar Barnabas, Thomas Mar Timotheos, Isaac Mar Philoxenos, Abraham Mar Paulos, Mathews Mar Makarios, Gregorios Mar Stephanos, Thomas Mar Theethos Episcopas of the Church participated in the meeting.