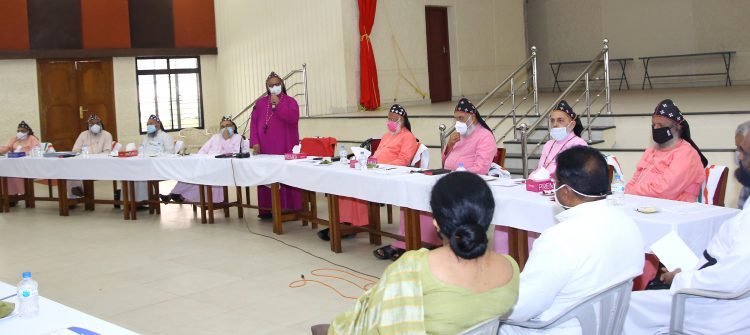 The Melpadom Georgekutty Scholarships were distributed on 22nd February 2021 at Dr. Alexander Mar Thoma Valiya Metropolitan Smaraka Auditorium. During the function, Rev K. G. Joseph, Sabha Secretary welcomed the guests and the audience to the meeting. Rt. Rev. Dr. Isaac   Mar Philexenos Episcopa thanked Melpadom Georgekutty and the family for giving this endowment to the students. Most Rev. Dr Theodosius Mar Thoma Metropolitan congratulated the students who are selected for the scholarships and urged them to work hard and attentively for the betterment of humankind. The Awards and Scholarships were given to the following:
George Scholar Prize
Mr.Anit Thomas, Mundugod
Mr. Christy Thomas Kurian, Perumbaikadu
Ms. Jeena Raju, Kaithacode
Ms. Praisy Rose Prince, Udumalpet
Mr. Shine Shaji, Pathamuttom
Saramma Jones Scholarship
Ms. Alby John, Vadavathoor
Ms. Jinsu Sara Jose, Thrikkunapuzha
Ms. Joselin Jose, Nellikkala
Mr. V. Sidharthan, Thiruverumbur
Ms. Sinju Susan Saji, Kumplampoika
Mr. Jeemon Stephen, Muttappally

Mr.& Mrs. P. S. George Philanthropic assistance
 Pratheeksha Bhavan, Mylapra -Dn. Ajin Mathew  Varghese
The meeting came to an end by the prayer of Rt. Rev. Thomas Mar Timotheos Episcopa and the benediction by His Grace the Metropolitan. The Bishops, Office Bearers and the Sabha Council Members of the Church were present.